Eli Herring Refused To Play in NFL Due to Religious Reasons
Published on March 25th, 2022 4:03 pm EST
Written By:
Dave Manuel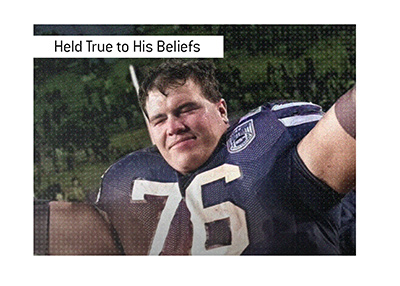 Prior to the 1995 NFL draft, offensive lineman Eli Herring wrote to all of the NFL teams to say this:
If you draft me, I won't play.
Eli Herring was a very good offensive lineman for BYU - so good, in fact, that some projected Herring as high as a first round draft pick.
None of that mattered to Herring, however, as his religious beliefs prevented him from playing on Sundays.
On top of that, a religious mission to Argentina earlier in his life had left him with untraditional views on money.
Herring decided that it wasn't about money - it was holding true to his beliefs.
-
Despite Herring telling all of the NFL clubs that he wouldn't be playing for them if drafted, the Oakland Raiders decided to try their luck.
The Raiders took Herring in the 6th round, hoping to lure him onto their team with the promise of a big contract - $1.5 million over three years.
A life-changing amount of money for somebody in his early 20s.
The Raiders flew out to offer the contract to Herring in person, but he wouldn't take it.
-
Herring never changed his mind, as he decided that holding true to his beliefs was more important than money.
Shortly after turning down the offer, Herring became a teacher at Mountain View High School, where he remains today.
His starting salary?
$22,000 a year.
-
Some people would think that Herring was crazy for turning down that much money, though he still has his health, his family and a job that he loves.
This is a cautionary tale to any NFL team - make sure that the person you draft wants to actually play football.