Edmonton Oilers Did Their Homework and Were Rewarded
Published on April 24th, 2023 6:19 pm EST
Written By:
Dave Manuel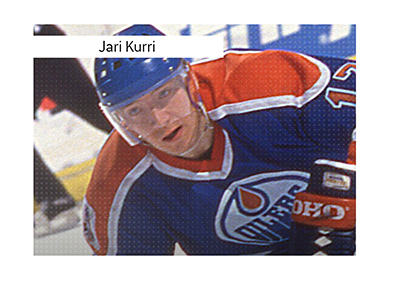 Jari Kurri is one of the top 100 NHL players of all time.
Kurri, who won five Stanley Cups, finished his career with over 600 goals.
The Gretzky/Kurri duo struck fear into the hearts of defensemen all over the NHL.
But did you know that nobody wanted to draft Kurri in the 1980 NHL Draft?
Nobody, of course, but the Edmonton Oilers, who snatched Kurri in the fourth round of the 1980 NHL Draft, much to the surprise of the rest of the teams in the NHL.
Did the Oilers know something that these teams didn't?
It turns out - they did.
-
Two things led to the Oilers ending up with one of the best right wingers of all time.
The first was a chance game between the Finnish national team and the Edmonton Oilers.
Kurri, who was part of the Finnish national team and played professional hockey with Jokerit of the Finnish SM-liiga, travelled to Edmonton to take on the Oilers.
At the time, the Oilers were playing in the WHA. For some strange reason, the game against the Finnish national team counted in the standings for the Oilers, so they took it seriously.
The Oilers would win the game 8-4.
Those in attendance, including the management of the Edmonton Oilers, noted that Kurri was very, very good.
This was before the days of Youtube and 200 TV channels, so the quality of Kurri's play in the game was pretty much a secret that only the Oilers and the fans in attendance that night knew about.
The Oilers were interested in Kurri, and they got to work.
-
After the Oilers saw Kurri play in Edmonton, they started building a file on him.
The vast majority of the teams in the NHL thought that Kurri still had to fulfill his military service in Finland - why would they draft him if he would be unavailable for a long period of time?
The Oilers, however, sharpened their pencils and made some calls.
This included a phone call or two to the Finnish government, where the Oilers ascertained that Kurri did NOT have any outstanding military service to take care of.
This was before the days of the Internet, so the Oilers were easily able to keep this information under wraps.
No other NHL teams bothered to make these inquiries, and the Oilers were able to steal Kurri in the 4th round of the 1980 NHL draft.
-
With a bit of good luck and some old-fashioned hard work, the Oilers were able to realize one of the best draft values in the history of the NHL.