Gaethje vs Alvarez Should Be Crazy Affair
Published on November 29th, 2017 3:23 am EST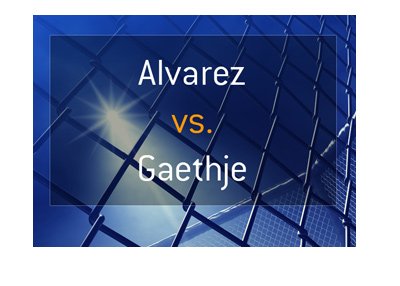 Ask many fight fans the question of which UFC 218 fight that they are looking forward to the most, and many will say Eddie Alvarez vs Justin Gaethje.
Both men employ a style that is heavy on strikes and short on grappling. Gaethje's debut against Michael Johnson was so wild, in fact, that it earned him a spot coaching opposite of Eddie Alvarez on the latest season of the "Ultimate Fighter".
A win for Gaethje in this fight may just vault him to the top of the waiting list to take on Conor McGregor, even ahead of such names as Khabib Nurmagomedov (let's assume, of course, that Tony Ferguson is McGregor's next opponent).
A win for Eddie Alvarez likely still leaves him a win or two away from another title shot, though this is a very important fight for him nonetheless.
You can expect that this fight will be violent and probably won't go the distance. If it does go the distance, both fighters would likely be too exhausted to move afterwards. If you need evidence of that, look at how exhausted Gaethje and Michael Johnson were at the end of their fight.
The one big factor that is in Eddie's favour is his experience - after all, Alvarez has held multiple titles over the course of his career and has fought under the brightest of lights.
On the other hand, Gaethje is younger and has never lost.
All in all - this should be a wild fight.
Here are the current betting odds for this tilt:
Justin Gaethje, 1.57
Eddie Alvarez, 2.5
Eddie Alvarez is the slight underdog in this fight, though the odds are fairly close.
Total Rounds
Under 1.5, 2.5
Over 1.5, 1.57
Will the fight go the distance?
No, 1.50
Yes, 2.50
-
Here are the keys to victory for both men on Saturday night:
Eddie Alvarez
Alvarez will need to avoid getting into a wild brawl with Gaethje, as this will be exactly what Gaethje wants. Alvarez needs to use his experience to pick his spots and to let Gaethje gas out. If Gaethje starts to gas in the second round, Alvarez might be able to pounce on the more inexperienced fighter.
As mentioned, Alvarez needs to hold Gaethje hold off and avoid getting stung with any big shots. Easier said than done though.
Justin Gaethje
Gaethje is a fighter unlike anyone that Eddie Alvarez has ever faced. Gaethje needs to step on the gas as hard as he can in order to bewilder and overwhelm Alvarez in the early going of the fight. The longer that the fight goes, the more it plays to Eddie's advantage, largely due to his experience.
Gaethje will almost certainly catch and stun Alvarez in the first round - he needs to make sure to finish him off when he gets the chance.
Odds Source
: William Hill