Duke's Only Points Against Came in Rose Bowl Against USC
Published on September 17th, 2022 5:59 pm EST
Written By:
Dave Manuel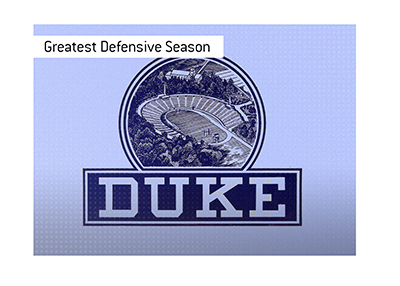 Duke (1938) and Villanova (1937) both share an eye-popping record:
They both went an entire season while allowing just 7 points.
Duke's accomplishment, however, is slightly more impressive, as the only points that they allowed in their 1938 campaign came in the Rose Bowl against USC.
-
Duke finished their 1938 season as the #3 ranked team in the AP poll, and it's not hard to see why:
They allowed NO points.
Over the course of the season, Duke allowed zero points while scoring 117.
Here is the list of Duke's games in the 1938 season:
18-0 Win against Virginia Tech
27-0 Win against Davidson
7-0 Win against Colgate
6-0 Win against Georgia Tech
7-0 Win against Wake Forest
14-0 Win against North Carolina
21-0 Win against Syracuse
7-0 Win against North Carolina State
7-0 Win against Pitt
Sure, offenses weren't anything close to what they are in this day and age, and the game has changed immensely since 1938.
Having said that, not allowing a single point in nine straight games is unbelievably impressive.
As Duke continued to shut out their opponents, the team moved up the rankings, and finished the season as the number three ranked team in the nation.
-
Duke would earn an entry into the Rose Bowl, and the game against USC would result in Duke's only loss of the game.
USC would score once - once - to win the game 7-3.
-
If you want to talk about records that will never be broken, how about a team that allowed just 7 points in an entire season, including a bowl game??