Penetrating US Sports Betting Market Proving To Be Difficult and Expensive
Published on February 18th, 2022 3:11 pm EST
Written By:
Dave Manuel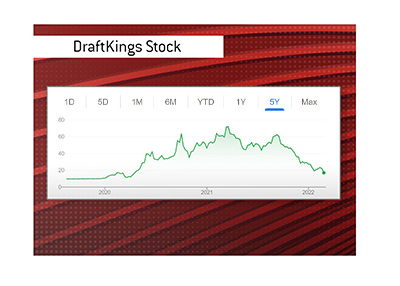 Earlier today, DraftKings reported their quarterly earnings, and Wall Street didn't like what they heard.
As of this moment, shares of DraftKings are trading at $17.91.
In March of 2021, shares of the company hit a high of $71.61 as investors clamored to buy shares, buoyed by returning sports leagues and the continued legalization of sports betting in the United States.
Less than one year later, and shares of DraftKings, one of the biggest sports betting companies in the world, have taken a swan dive.
-
So what is wrong with DraftKings?
There are a number of things conspiring to drive shares down, including:
1. The competition in the US sports betting market is unbelievable.
There are at least a dozen well-funded companies that are battling for market share in the United States right now.
DraftKings is battling with a number of different entities to gain this valuable market share, which leads to the second point:
2. Acquiring new customers is very expensive.
Partnership deals with sports teams. Media deals. First-time bonuses to attract new customers.
All of these things are very expensive, and DraftKings spends an incredible amount of money on marketing.
3. Customers are fickle.
With all of these different companies vying for new customers, clients find it very easy to move from sportsbook to sportsbook, especially as they hunt for bonuses.
At the end of the day, most of these sportsbooks offer essentially the same thing, so why would a customer be loyal to one company and not the other?
4. The stock market is very weak in general.
The S+P 500 is down almost 10% this year, and the appetite for shares of companies that lose money is practically zero right now. This has helped to tank shares of DraftKings.
-
The shine has definitely come off of DraftKings, and remaining investors in the company are now asking themselves some very difficult questions about the business.