Philadelphia 76ers Owner Harold Katz Had Targeted Michael Jordan
Published on November 18th, 2023 12:39 pm EST
Written By:
Dave Manuel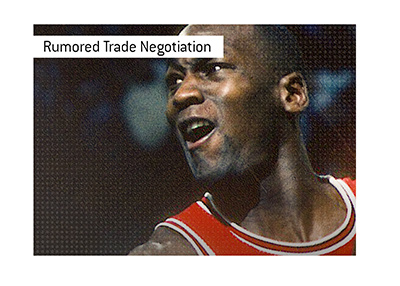 Imagine how NBA history would have been altered if former Philadelphia 76ers owner Harold Katz had gotten his way.
Katz, to his credit, knew that Michael Jordan was going to be a star, and wanted to make a trade to acquire the future GOAT, even before Jordan had stepped on a NBA court.
Katz reportedly contacted the Bulls during the 1984 NBA Draft about a potential blockbuster trade - Julius Erving for the #3 pick in the draft.
The 76ers felt that they needed something to get over the hump, as they had just lost to the Boston Celtics in the Eastern Conference finals.
Why not add Michael Jordan to a core of veteran players, in exchange for one of the greatest players of all time?
Erving was getting older (33 years of age at the time), though he was still hooping, as he posted a stat line of 22.4 points per game during the 1983-84 season.
The Bulls were not a good team in 1983-84, and the 76ers thought that the team might want a veteran player to stabilize their franchise.
-
According to Katz, he thought that the owners of the Bulls at that time, Jonathon Kovler, had agreed to the potential deal.
Rod Thorn, the general manager for the Bulls at the time, went in a different direction that would transform the two franchises forever, as he nixed the deal and drafted Michael Jordan instead.
-
Dr. J would play for three more years before retiring, while Michael Jordan would go on to win six championships with the Chicago Bulls.
Credit goes to GM Rod Thorn for sticking with his choice of Michael Jordan. Jordan hadn't even stepped on the court yet as a professional, and turning down a still very-good Erving couldn't have been easy, especially when the owner of the team reportedly wanted the trade.
There have been a number of rumored potential Michael Jordan trades over the years, though this is the one that came the closest to happening, and it would have changed the NBA forever.