Donnel Pumphrey Rushed For 6,405 Yards During Four Year Stint With San Diego State
Published on September 24th, 2023 12:58 pm EST
Written By:
Dave Manuel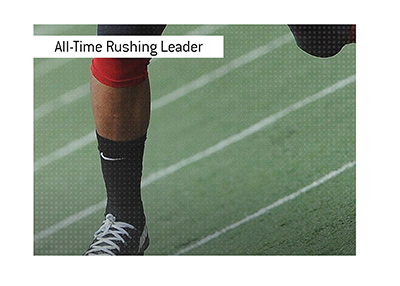 The all-time college football rushing leader - including bowl games - remains Donnel Pumphrey, who rushed for 6,405 yards during his time with San Diego State.
Pumphrey remains ahead of such all-time college football greats as Ron Dayne (6,397 yards), Ricky Williams (6,279 yards), Jonathan Taylor (6,174 yards) and Tony Dorsett (6,082 yards).
-
Pumphrey remained remarkably healthy over the course of his four-year stint with San Diego State, as he played in every possible game.
In addition, Pumphrey was used immediately as a freshman, as he played in all 13 games for San Diego State and rushed for 752 yards.
Pumphrey broke out as a sophomore with San Diego State, as he rushed for 1,867 yards and 20 touchdowns.
Pumphrey was already a superstar and still had two years of eligibility left with the school.
Pumphrey would continue his onslaught in his junior year at San Diego State, rushing for 1,653 yards, adding another 414 through the air and combining for 20 scrimmage touchdowns.
Pumphrey would remain with the school for his senior year, where he would rush for 2,133 yards and 17 touchdowns.
Including his bowl games, Pumphrey was able to finish on the top of the all-time college football rushing list.
-
Pumphrey would finish 10th in Heisman Trophy voting in 2016, finishing behind the likes of Lamar Jackson and Deshaun Watson.
Pumphrey would be taken in the 4th round of the 2017 NFL Draft by the Philadelphia Eagles.
Pumphrey played for both the Eagles and Detroit Lions during his time in the NFL, and actually earned a Super Bowl ring after the Eagles won Super Bowl LII.
After playing in the XFL for a season, Pumphrey stepped aside from professional football and is currently coaching at San Diego State.
-
Some people dispute Pumphrey's record, as it includes bowl games, while players who played before 2002 didn't have bowl games added to their official yardage totals.