Trump Almost Even Money to Win in 2020
Published on January 20th, 2017 1:53 am EST
Written By:
Dave Manuel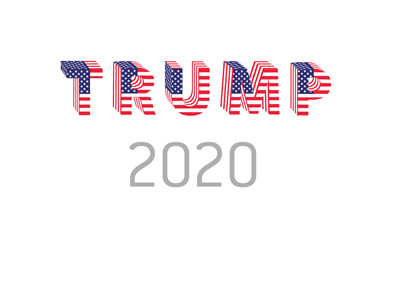 Update: February 13th, 2020 2:38 pm EST
President Trump has surged in the odds following his impeachment acquittal in the Senate and continued good economic news.
In addition, Bernie Sanders is emerging as the front-runner for the Democratic nomination, and many believe that he would lose to President Trump in a head-to-head match-up in November.
Here are the current betting odds for the major contenders as of this moment:
Odds To Win 2020 Election
President Trump, -180
Bernie Sanders, +350
Michael Bloomberg, +600
Pete Buttigieg, +1200
Joe Biden, +2500
Amy Klobuchar, +4000
-
Those hoping that the release of the redacted Mueller Report would dent President Trump's chances for re-election will be disappointed to see the current betting odds, as his odds of winning have slightly improved since the report was released on Thursday, April 18th.
Trump continues to trend towards being a coin flip to win, as he currently sits at 2.2 to win re-election in 2020 (note: 2.00 is a coin flip).
This means that a successful $100 wager on Trump to win the election in November of 2020 would result in a total profit of $120.
Notable Moves: Kamala Harris has seen her odds worsen slightly to 7.00, while Pete Buttigieg has moved from 15.00 to 11.00 to win.
President Trump, 2.2
Bernie Sanders, 7.0
Kamala Harris, 8.5
Pete Buttigieg, 11.00
Joe Biden, 10.00
Update:
Friday, April 5th, 2019
President Trump has seen his odds to win the 2020 election improve somewhat since the Mueller investigation was brought to a close.
As we sit roughly a year and a half from the election, President Trump is trending towards a coin flip to win again in 2020.
The current odds to win in 2020 look like this:
President Trump, 2.25
Bernie Sanders, 7.00
Kamala Harris, 7.00
Joe Biden, 12.00
Beto O'Rourke, 10.00
Pete Buttigieg, 15.00
Andrew Yang, 29.00
The 2.25 line for Trump means that a successful $100 wager on the President to win would yield a total profit of $125. It also means that he has implied odds of 44.44% to win in 2020.
--
Update: Thursday, January 9th, 2019
With the Republicans losing the House and Mueller's investigation continuing into President Trump's third year in office, the odds of Trump winning re-election in 2020 have declined slightly.
With that being said, President Trump is still the clear favourite to win re-election in 2020 when compared to the other potential candidates.
Here are the top five betting odds as of this moment, courtesy of Bet365:
Source: Bet365
Time Stamp:
January 9th, 2019 9:42 am EST
Odds Subject to Change
President Trump, 2.87
Kamala Harris, 7.5
Beto O'Rourke, 7.5
Joe Biden, 11.00
Elizabeth Warren, 17.00
None of the potential candidates, aside from President Trump, have formally announced their intentions to run in 2020. Depending on the results of the Mueller investigation, Trump is expected to be the Republican candidate in 2020.
-
Earlier today, Donald Trump was sworn in as the 45th President of the United States, capping an incredible two-year run that saw him move from laughing stock to leader of the free world.
There are many people who believe that there is absolutely no way that Trump will win re-election in 2020, though he has a history of defying the odds. Any number of things could happen over the next four years that could make or break President Trump, though one thing is for sure - you can never count him out.
Sitting Presidents enjoy something over the competition that is called the "incumbent's advantage". When undecided voters arrive at the polling booth, there is a tendency for them to vote for the person who is already in power. The devil you know, they say, is better than the devil you don't. For this reason, Donald Trump is currently the clear favourite to win in 2020.
Here are the betting odds as of this moment:
Odds to Win Election in 2020
Donald Trump, 6/4
Mike Pence, 9/1
Elizabeth Warren, 9/1
Michelle Obama, 10/1
Cory Booker, 20/1
Hillary Clinton, 28/1
Paul Ryan, 25/1
Amy Klobuchar, 33/1
Bernie Sanders, 40/1
Andrew Cuomo, 25/1
Sherrod Brown, 40/1
Joe Biden, 40/1
Julian Castro, 33/1
Kamala Harris, 40/1
Michael Bloomberg, 33/1
Marco Rubio, 33/1
Kirsten Gillibrand, 50/1
Tim Kaine, 33/1
Trey Gowdy, 66/1
Bill de Blasio, 66/1
Mitt Romney, 66/1
Rand Paul, 80/1
-
As you can see, bookmakers believe that there is a decent chance of Donald Trump not running for re-election, as Mike Pence is currently 9/1 to win the election in 2020.
At this early stage, Elizabeth Warren seems like one of the likeliest opponents for Trump in 2020. Names such as Michelle Obama and Hillary Clinton both seem like extreme long shots at this point.