Cerrone v Lawler - UFC betting
Published on July 17th, 2017 11:43 am EST
Written By:
Cian Murray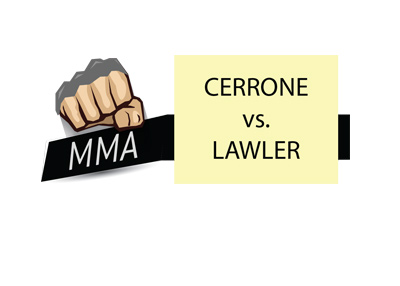 If you were to write a list of the fan favorites in the UFC, these two would make it into the top-10 every single time.
Donald 'Cowboy' Cerrone and Robbie 'Ruthless' Lawler are renowned for their exciting styles, lion-hearts and vicious fists. This fight had people all over the world fawning over the possibility of it when it was announced for UFC 213.
Unfortunately, Cerrone wasn't fit for the fight to take place at that event, so it was moved to 214. Now, with three title fights, 214 looks to be the best card of 2017. The pair bring similar styles to the table for this fight, with Lawler arguably the finer striker.
The last time we saw Ruthless in the octagon was his unsuccessful title defense against Tyron Woodley. That first round knockout caught many off guard, but it should be remembered that Lawler is still one of the finest fighters in the UFC and deserves his 3/5 favorites tag
Cerrone is also coming off a loss after a poor performance against Jorge Masvidal. He got knocked out in that fight, but in truth, it was an appearance he should have never made. He had fought Matt Brown just six weeks beforehand. Most combatants fight camps last longer than that!
The Cowboy comes into this fight at a price of 27/20. Cerrone is ranked seventh, while Robbie Lawler is ranked third - a win for either man and they are right back into the title picture.
In terms of the tape - there is not much difference in the reach between the two, with Lawler slightly better off at 74" opposed 73", while Cerrone has a two inch height difference. Both men are seasoned veterans, so such small measures should be easily countered by know-how and strategy.
Surprisingly, Cerrone lands more significant strikes per minute - 4.18, opposed to Lawler's 3.49. In a fight that's going to stay on it's feet, this could be significant.
That being said, he also absorbs more strikes - 4.01 per minute in comparison to 3.69. This could be vital information while trying to pick a winner between two of the hardest hitters in all of the UFC.
These guys are phenomenally well-matched, so well done to matchmakers who put this fight together. To be honest, we are really struggling to pick a winner here.
One thing is for sure though - this should be a slugfest and whoever gets off the cleaner shots will be set for a run at Tyron Woodley's title.