Don Hutson Scored 4 Touchdowns and Kicked 5 Extra Points - In One Quarter
Published on February 25th, 2023 2:44 pm EST
Written By:
Dave Manuel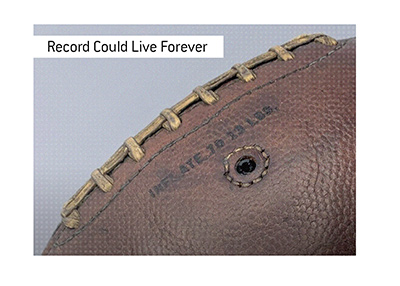 Don Hutson, aka the "Alabama Antelope", is one of the greatest wide receivers in the history of the NFL.
The Hall of Famer caught 488 passes over the course of his storied 11-year career, for a total of 7,991 receiving yards and 99 touchdowns.
These numbers were unheard of back in the 1930s and 1940s, when the NFL was mostly about running the football and defense.
In fact, in 1942, Hutson had over 1,211 receiving yards in a single season, which was almost hard to comprehend at the time.
-
Hutson, who played his entire career for the Green Bay Packers, set a number of records over the course of his career.
One of those records came in 1945, which was to be his last year in the league.
-
It was Sunday, October 7th, 1945, and the Green Bay Packers were playing host to the Detroit Lions.
After a scoreless first quarter, the Detroit Lions went up 7-0 early in the second quarter.
A fire was clearly lit under the Packers at this point, and they erupted for 41 straight points, just in the second quarter alone.
The Roy McKay/Don Hutson connection accounted for the majority of the points, as the QB and wide receiver would connect four times for touchdowns. Hutson would catch 56, 46, 17 and 6 yard passes from Roy McKay in the second quarter alone.
Hutson also kicked the extra points for the Packers, so he notched five extra points as well, just in the second quarter.
All told, Hutson combined for a total of
29 points
in the second quarter - four touchdowns (6x4) and 5 extra points (5x1).
-
The Packers would go on to win the game by a score of 57-21.
The Roy McKay and Don Hutson stat lines were pretty hilarious:
Roy McKay, 6-14, 151 yards, 4 touchdowns
Don Hutson, 6 catches for 144 yards, 4 touchdowns
Needless to say that McKay and Hutson enjoyed a great deal of chemistry on that fall day in Green Bay.