Handicapping The Possible Trade Partners For The Houston Texans
Published on March 12th, 2022 5:06 pm EST
Written By:
Dave Manuel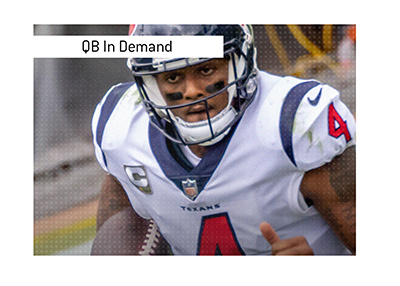 On Friday afternoon, a grand jury declined to indict Houston Texans QB Deshaun Watson, meaning that he will not face criminal charges.
This means that Watson is now free to be traded, and there is a very healthy market for his services.
After all, Watson is only 26 years old and is likely a top 5 quarterback in the league.
A number of teams, including Seattle, Carolina and Philadelphia, are thought to be interested in Watson's services.
The asking price is going to be steep however, and will likely include three first-round draft picks and at least one good player.
-
It's important to note that Watson has a no-trade clause in his contract, so he will have to be on board with any deal.
With that being said, let's look at the possibilities for where he could end up, from most likely to least likely:
1.
Carolina Panthers.
Carolina has a strong need for a QB and have said that they will be "all-in" when Watson comes available.
Carolina has the trade capital to get the deal done as well, including the #6 pick in the upcoming NFL draft, as well as assets like Christian McCaffrey.
While Carolina still has a number of issues, a Watson/DJ Moore combination would be electric and would immediately become one of the most dynamic duos in the league.
In addition, Carolina has the room to get the deal done, plus they have an aggressive owner who is not afraid to make big moves.
Carolina, in our opinion, is certainly in the driver's seat here, as they can likely give Houston the best deal.
2.
Seattle Seahawks.
The Seattle Seahawks seemed to be in full-blown rebuild mode after trading Russell Wilson - that was, of course, until Watson cleared up his legal issues.
While Watson would be a good fit in Seattle (through to Metcalf and Lockett), Seattle doesn't have as good of assets to send to Houston in any deal.
If Seattle hadn't traded for Jamal Adams, they'd likely have the best shot of landing Watson.
3.
Pittsburgh Steelers.
Watson would certainly look great throwing to the great receivers in Pittsburgh, though their #20 spot in the draft will likely take them out of the running for Watson.
Houston almost certainly wants a high draft pick this year, and Pittsburgh can't offer it to them, unless they swing another deal in the interim.
Pittsburgh seems like a long shot, especially with Carolina apparently willing to go "all in" to get Watson.
4.
Tampa Bay Buccaneers.
A great team already assembled, a nice climate, a competitive tax situation - Deshaun Watson would love to be in Tampa Bay, though again, the team can't put together nearly as solid a deal as Carolina.
Tampa Bay just doesn't have the draft assets to get this deal done, in my opinion, though it would obviously be a great fit for Watson.
-
Carolina has the draft capital, the young assets and the aggressive owner to get this deal done, plus Houston would be able to deal Watson outside of the conference.
The likely clincher for Houston would be the fact that they would get the #6 pick from Carolina.
Until we hear differently, Carolina is absolutely in the driver's seat.