Will 7 Sack Record Ever Be Broken?
Published on January 15th, 2023 7:36 pm EST
Written By:
Dave Manuel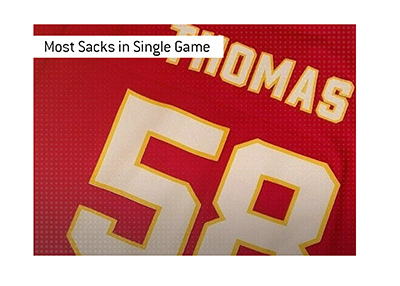 The legendary Derrick Thomas holds the record for most sacks in a single game.
In a November 11th, 1990 battle against the Seattle Seahawks, Thomas was the stuff of offensive lineman nightmares, as he managed to take down the Seahawks' quarterbacks for a total of seven sacks.
Over 30 years later and this record is still intact. A number of players have managed six sacks since, including the likes of Adrian Clayborn, Osi Umenyiora and Aldon Smith, but nobody has reached the 7 sack mark.
It's also interesting to note that Derrick Thomas is also one of the players with 6 sacks in a game, as he accomplished this on September 6th, 1998 in a game against the Oakland Raiders.
-
You might think that if Derrick Thomas managed to sack the Seahawks seven times, the Chiefs would have easily won the game.
You'd be wrong.
In fact, the Chiefs would lose the game by a score of 17-16.
The Seahawks were sacked a total of 9 times in the game, and they lost a total of two fumbles.
Despite the fact that he was under siege all game, Dave Krieg still managed to throw for over 300 yards and 2 touchdowns. That's an absolutely incredible statistic, as he was under immense amounts of pressure in the game.
In addition to Derrick Thomas recording 7 sacks, both Chris Martin and Neil Smith managed single sacks in the contest.
-
In the end, it would be the Chiefs offense that would let down Derrick Thomas and the Kansas City Chiefs defense.
The Chiefs managed just 229 yards of offense on the day and managed zero offensive touchdowns (the lone Chiefs TD of the day was a fumble recovery for a touchdown).
Despite absolutely wrecking Dave Krieg, Derrick Thomas' efforts were for naught, as the Chiefs couldn't put anything together on offense.
-
Derrick Thomas would finish 1990 as the NFL sack leader with 20 sacks, narrowly edging out Bruce Smith who finished with 19.