Derrick Thomas Recorded 27 Sacks in 1988
Published on September 23rd, 2023 11:50 am EST
Written By:
Dave Manuel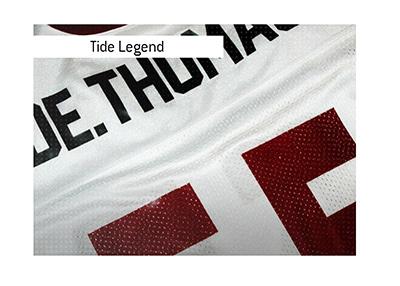 If you look at the record for most sacks in a single college football season, you'll see that Terrell Suggs holds the record with 24.
In 2002, while playing for Arizona State, Suggs absolutely dominated, sacking the opposing quarterback a total of 24 times.
This is the "official" record for most sacks ever in the FBS.
The unofficial (and real record) belongs to Derrick Thomas.
-
For some bizarre reason, the NCAA didn't start collecting official defensive statistics until the year 2000.
This is why Derrick Thomas doesn't own the official sack record, as the NCAA didn't start following this statistic until 2000.
-
In 1988, during a dominant season with Alabama, Derrick Thomas posted a total of 27 sacks in a single year.
This included a particularly dominant game against Texas A&M, when Thomas posted a total of 5 sacks.
In addition, Thomas also posted 38 tackles for a loss during his 1988 season with Alabama, which resulted in him winning the Butkus Award and the SEC Defensive Player of the Year. In addition, Thomas was also named as an unanimous first-team All-American.
Thomas would finish his NCAA career with an "unofficial" 52 sacks, which puts him in a first-place tie with Tedy Bruschi.
In addition, Thomas blocked nine kicks and posted 74 tackles for a loss over his career with Alabama, along with 10 forced fumbles and two safeties.
-
Derrick Thomas would finish 10th in Heisman Trophy voting in 1988, earning a total of 3 first-place votes.
Thomas would be drafted 4th overall in the 1989 NFL Draft, and would go on to become one of the greatest defensive ends of all time.
-
While Derrick Thomas is recognized as the all-time SEC sack leader, college football in general does not recognize his mark.
Derrick Thomas would be inducted into the College Football Hall of Fame in 2014, 14 years after his death.