How Dennis Rodman Went From Janitor to NBA Superstar
Published on June 6th, 2023 2:45 pm EST
Written By:
Dave Manuel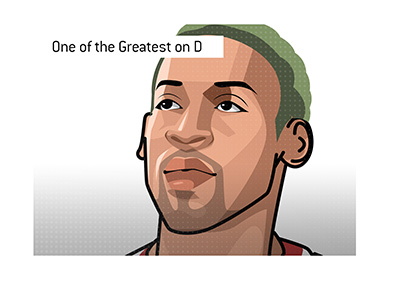 Dennis Rodman, the original "Bad Boy", undoubtedly had the most unusual route to the NBA of any player in the history of the game.
It's actually unbelievable that Rodman made it to the NBA, let alone becoming one of the best players to ever play the game.
-
Rodman, unlike most other NBA athletes, was not a dominant athlete in high school.
In fact, Rodman was cut from high school basketball teams, and when he actually made the team, he would ride the bench.
That's right - the future 5x NBA champion and 2x DPOY couldn't even start on his high school basketball team.
In fact, Rodman couldn't make any of his high school teams as a starter, and he failed to make his high school's football team as well.
Rodman was short and couldn't hit a shot to save his life.
-
After graduating from high school, Rodman got a job working as a janitor at the Dallas Fort Worth International Airport.
It seemed like Rodman was destined to work there for the rest of his life.
While working as a janitor, something funny happened - Rodman had a tremendous growth spurt.
Over the course of less than a year, Rodman went from 5'11 to 6'7.
Armed with his newfound height, Rodman decided to try to play basketball again.
A friend of the Rodman family alerted a local college (Cooke County College) to the unearthed diamond that was working at the local airport, and Rodman was offered a spot on their team.
Rodman played one semester for the team, where he put up numbers but was eventually removed from the team due to terrible grades.
Rodman would transfer to Southeastern Oklahoma State University, where he would dominate for three straight seasons, averaging 25.7 points per game and nearly 16 rebounds.
Rodman parlayed this success into an invite to the Portsmouth Invitational Tournament, where there were numerous NBA scouts in attendance. Rodman made the most of the opportunity, as he ended up winning MVP of the entire tournament.
-
Rodman had an interesting problem when he declared for the 1986 NBA Draft - he was 25 years old, making him much older than most of the other draft hopefuls.
The Detroit Pistons decided to take a chance on Rodman, as they had been impressed by his rebounding and aggressive play. Rodman would get drafted in the second round of the 1986 NBA Draft.
The rest is history, as Rodman would eventually win 5 NBA titles and solidify himself as one of the greatest defensive players of all time.
All because somebody decided to take a shot on the janitor working at the airport who experienced a late growth spurt.