Dejaun Blair Played Entire NBA Career With No ACLs
Published on April 8th, 2022 11:15 pm EST
Written By:
Dave Manuel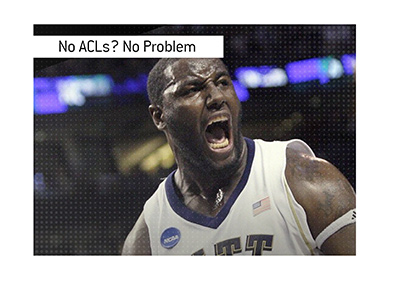 The ACLs, aka the Anterior Cruciate Ligament, are crucial for anybody who wants to be a professional athlete.
The ACL connects your thighbone to your shinbone and helps to stabilize your knee joint.
In sports where there is sudden stopping and starting and changes in direction, the ACL is extremely important. If a running back tears their ACL, for instance, they will likely be out for a year, as they will be virtually useless with a torn ACL. You can still walk with a torn ACL, but you certainly can't function as an athlete.
Unless your name is Dejaun Blair.
In high school, Blair underwent two surgeries to repair his ACLs.
The surgeries were unsuccessful, and the ACLs eventually just disappeared entirely.
Blair's body figured out how to cope without the ACLs, as his other muscles and ligaments were forced to adjust.
In fact, Blair didn't even know that he had no ACLs until he was about to turn pro.
Blair made up for his lack of ACLs with his hard style of playing and big heart, and he parlayed this grit into a second round selection by the San Antonio Spurs in the 2009 NBA Draft.
Blair almost certainly would have been picked much higher if words of his disappearing ACLs hadn't gotten out to the NBA teams that were thinking about drafting him.
-
Blair was in the league for seven seasons, and he also played overseas.
Blair's best year in the NBA was likely the 2011-12 regular season, where he averaged 9.5 points per game, along with 5.5 rebounds and 0.9 steals.
Blair would play for the Spurs, Mavericks and Washington Wizards before heading overseas.
-
For a game that relies on stopping and starting and changing directions as much as basketball does, the fact that Blair enjoyed seven years in the NBA is nothing short of a miracle.