The "Head Slap" Was Banned By The NFL in 1977
Published on November 1st, 2023 6:22 pm EST
Written By:
Dave Manuel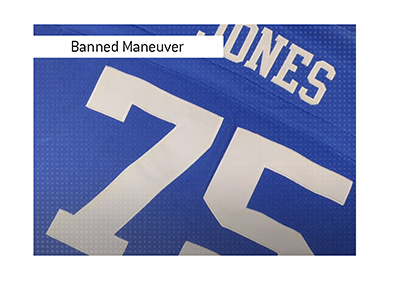 Deacon Jones was one of the most physically intimidating and effective defensive ends of all time.
In fact, Deacon Jones is in the Football Hall of Fame.
Deacon Jones quick and physically imposing (6'5, 272 pounds), and he was always looking to gain an edge on the players who were trying to stop him.
Jones, who was a 8x Pro Bowler, popularized the "head slap".
Imagine that you are an offensive tackle, and you are staring down Deacon Jones.
In a flash, Jones slaps you on the helmet as hard as he can, momentarily stunning you.
By the time you regain your senses, Jones has taken down your quarterback (Jones finished his career with 173.5 sacks).
Deacon Jones was creative and always looking for new ways to outwit his opponents.
The "head slap" was legal at the time, and Deacon Jones used it to its full potential.
-
The problem with the "head slap" is that it was injuring players.
After all, imagine a 275 pound wall of muscle slapping you on the helmet as hard as he can.
A few years after Jones' retirement from the NFL, the league banned the "head slap".
The next year, in 1977, the NFL's rule book was changed to formally ban the head slap.
-
The move was extremely effective, and Deacon Jones was just following the rules when he popularized the move.
The problem, of course, is that it was injuring players and had the potential to result in concussions.
For that reason, the NFL decided to formally outlaw the move in 1977.