Stephen Thompson Has Edge To Defeat Till
Published on May 17th, 2018 4:03 pm EST
Written By:
Dave Manuel
Click Here To Bet on Till vs Thompson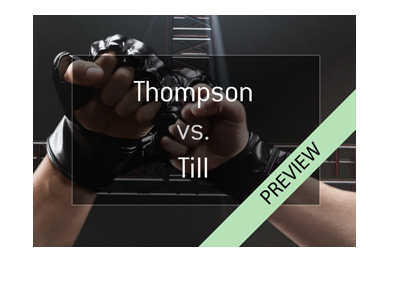 The main event of the upcoming UFC card in Liverpool will see Stephen "Wonderboy" Thompson take on Darren Till in a compelling Welterweight fight.
In Till vs Thompson, you get two of the very best strikers in the division.
Thompson likely has the edge when it comes to big fight experience, as he has fought Tyron Woodley for the title twice, including one battle that took place in Madison Square Garden. Despite fighting in front of a hostile crowd, the pressure will likely not faze Thompson.
Darren Till, on the other hand, is likely to make another step forward up the title ladder. Till notched the biggest win of his career in his last fight when he stopped Donald Cerrone, though a convincing win over Thompson would be even bigger, as it might earn Till a shot at the Welterweight title. The United Kingdom is one of the UFC's most important markets, and they would love nothing more than for one of England's own to fight for the Welterweight title.
In Till vs Thompson, you are getting two outstanding strikers who will both be looking to finish the fight. Till employs more of a kickboxing style, as he looks to overwhelm his opponents with a flurry of strikes. Thompson, on the other hand, is one of the most creative fighters in the UFC and will be looking to stop Till with some unexpected, like a jumping crane kick or some sort of spinning attack.
Till is currently in the midst of a long unbeaten streak, while Thompson is coming off of a win over Jorge Masvidal.
-
Let's take a look at the current betting odds for this tilt, courtesy of Bet365:
Source: Bet365
Time Stamp:
May 17th, 2018 3:46 pm EST
Odds Subject to Change
Stephen Thompson, 4/7
Darren Till, 6/4
-
Those who back Thompson think that this will end up being a "there is levels to this" type of fight, where Thompson schools Till with his experience, striking attack and patience.
Till, on the other hand, will be looking to rush and floor Thompson in front of a friendly crowd. Thompson, it should be mentioned, is tough to put away, as he showed in his first fight against Tyron Woodley.
This should be a great fight with plenty of title implications.