Dan Marino Fell From Potential 1st Overall Pick to #27
Published on April 28th, 2023 12:54 pm EST
Written By:
Dave Manuel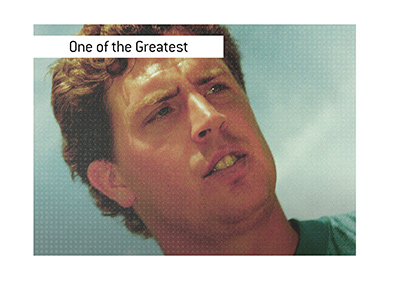 When talking about the biggest draft slides of all time, people tend to point to names like Aaron Rodgers, Drew Brees and Lamar Jackson.
The biggest ever draft slide, however, likely belongs to Dan Marino, who went from the likely first overall pick to almost falling out of the first round.
-
After his 1981 season with the Pittsburgh Panthers, Dan Marino was being whispered about as a potential first overall pick in the NFL Draft.
Pitt was dominant during Marino's first three seasons with the team, racking up a cumulative record of 33-1.
Marino was obviously a big part of this success, and 1981 was his best season with the team, as he threw for 2,876 yards and 37 touchdowns.
Marino, who finished fourth in the Heisman voting in 1981, was being talked about as a potential first overall draft pick in the 1983 NFL Draft.
-
Marino's senior season with Pitt was a disappointing one, as he threw for 2,432 yards, 17 touchdowns and 23 interceptions.
In the 1983 Cotton Bowl, with many NFL scouts watching, Pitt lost 7-3 to Southern Methodist.
Many scouts felt as though Marino simply wasn't count out for the NFL, plus there were rumours of possible drug use.
As a result, his draft stock plummeted.
At the 1983 NFL Draft, five quarterbacks were taken ahead of Dan Marino - Ken O'Brien, Tony Eason, Todd Blackledge, Jim Kelly and John Elway.
Marino had to watch as he fell and fell. Quarterbacks that he was positive he was better than were taken ahead of him, and Marino was wondering when the nightmare would end.
-
Marino's misery was ended when the Miami Dolphins finally took him with the #27 overall pick.
There was apparently zero expectation that Marino would fall that far - in fact, he hadn't even talked to the Miami Dolphins prior to the draft.
The Dolphins, however, decided that Marino was worth the risk, and the rest is history, as Marino would become one of the greatest NFL quarterbacks of all time.
-
It's interesting to note that three of the biggest slides of all time - Dan Marino, Aaron Rodgers and Drew Brees - would go on to become Hall of Famers or surefire future Hall of Famers.