Gran Premio de la Comunitat Valenciana - Betting Odds, Event Details, History and Records
Date:
2024.11.26
Contest:
MotoGP
Location:
Circuit Ricardo Tormo, Cheste, Spain
The Valencian Grand Prix, a key event in the MotoGP World Championship calendar, has been held annually since 1999.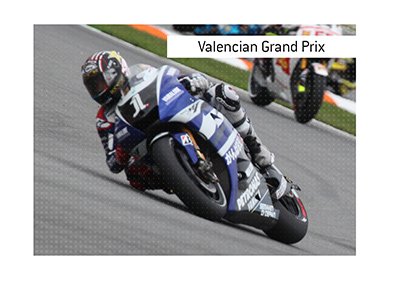 Situated in Cheste, near Valencia, Spain, the Circuit Ricardo Tormo stands out with its stadium-like design. This unique layout allows spectators in almost any grandstand to view nearly the entire track. The circuit, known for its intricate combination of long straights and tight corners, spans 4 kilometers (2.489 miles) and features nine left and five right corners. Its design limits overtaking opportunities, highlighting the importance of qualifying sessions.
2022 Winner:
Spanish motorcycle racer Alex Rins, riding for Suzuki, won the Gran Premio de la Comunitat Valenciana last.
2023 Betting Odds:
While the odds for the Valencian Grand Prix have not been released yet, what is available is the odds to win the MotoGP World Championship 2023:
Source: Bet365
Time Stamp:
September 22nd, 2023 5:19 pm EST
Odds Subject to Change
Francesco Bagnaia -600
Jorge Martin +450
Marco Bezzecchi +1800
Brad Binder +6600
...
Race Significance:
Often, the Valencia GP marks the finale of the MotoGP season, playing a crucial role in championship outcomes. The race has witnessed numerous iconic moments over the years. Notably, Nicky Hayden secured the 2006 MotoGP championship following Valentino Rossi's surprise fall, and the 2015 race saw Jorge Lorenzo win the title amid a season filled with controversies.
Weather and Atmosphere:
Raced typically in November, Valencia's unpredictable weather can vary from sunny to wet conditions, posing additional challenges to riders and teams. The circuit's stadium-like design ensures a vibrant atmosphere, especially evident when Spanish competitors are racing, reflecting Spain's love for motorcycle racing.
-
The Valencian GP is one of the several prestigious MotoGP events hosted by Spain, a nation with a deep-rooted motorcycling history and the birthplace of numerous champions. For riders, teams, and fans, this race remains a much-anticipated highlight on the MotoGP calendar.
-
View more
Sporting Contests