Where To Bet on Spanish Grand Prix
Click Here To Bet on Spanish Grand Prix!
(Ad)
The Spanish Grand Prix is one of the oldest motor races in the world, as the race had its inception all the way back in 1913.
After the Spanish Civil War brought an end to the event, the Spanish Grand Prix was revived in 1967 and has been held every year since.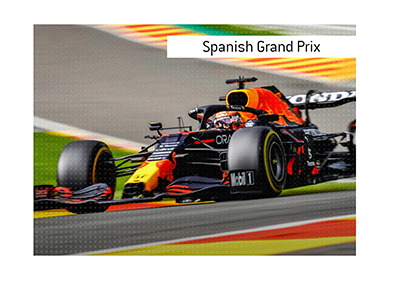 The race is currently run on the Circuit de Barcelona-Catalunya, which is a 4.675 kilometre track.
The race is a total of 308.424 kilometres, as the participants must successfully complete 66 laps.
The team with the most wins in the event is Ferrari, with a total of 13 wins, while Michael Schumacher and Lewis Hamilton have both individually won the event a total of 6 times.
The list of multiple winners of the event includes:
Michael Schumacher
Lewis Hamilton
Jackie Stewart
Nigel Mansell
Alain Frost
Mika Hakkinen
Louis Chiron
Emerson Fittipaldi
Mario Andretti
Ayrton Senna
Kimi Raikkonen
Fernando Alonso
-
Max Verstappen and Charles Leclerc as the two clear favourites to win the 2022 event - let's take a look at the current betting odds for this race, courtesy of Bet365:
Source: Bet365
Time Stamp:
May 12th, 2022 12:55 pm EST
Odds Subject to Change
Max Verstappen, 2.00
Charles Leclerc, 2.20
Carlos Sainz, 15.00
Sergio Perez, 17.00
Lewis Hamilton, 26.00
George Russell, 26.00
Valtteri Bottas, 67.00
Lando Norris, 67.00
Fernando Alonso, 176.00
Esteban Ocon, 201.00
*top 10 odds listed*
Event Details:
Venue: Circuit de Barcelona-Catalunya
Date: May 22nd, 2022