Qatar Grand Prix - Betting Odds, Event Details, History and Records
Date:
2023.11.29 - 2023.12.01
Contest:
F1
Location:
Losail International Circuit
In recent years, the Qatar Grand Prix has emerged on the Formula 1 racing calendar.
It was the tumultuous backdrop of 2021, with the COVID-19 pandemic causing upheavals in scheduled events, that led to its inclusion. To compensate for the many interruptions and cancellations, Formula 1 had to bring in new and returning circuits, ushering Qatar onto the scene.
On the 21st of November, as a replacement for the called-off Australian Grand Prix, Qatar made its F1 debut.
2021 Winner:
Lewis Hamilton clinched the victory, with Max Verstappen and Fernando Alonso joining him on the podium.
--
However, 2022 saw a pause in the racing action in Qatar. The nation was abuzz with the excitement of the
FIFA World Cup
, so the Grand Prix took a backseat.
But motorsports fans have much to look forward to. 2023 marks the resurgence of the Qatar Grand Prix, following the signing of a decade-long contract with Formula 1.
Circuit:
Nestled a short distance north of Doha, Qatar's bustling capital, is the Losail International Circuit - the venue of the Grand Prix. Though its association with Formula 1 is newer, it has been the home of
MotoGP
races since 2004.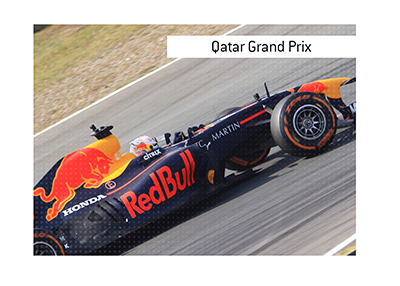 What makes the Losail International Circuit stand out is its distinctive blend of medium to high-speed bends contrasted by technical slower sections. Its desert location adds an unpredictable element, with occasional sand drifts challenging the drivers. Additionally, the circuit boasts a lengthy primary straightway, allowing racers to overtake their competitors.
In a spectacle of lights, much like the
Bahrain Grand Prix
and the
Singapore Grand Prix
, the Qatar race unfolds under the shimmer of floodlights, thanks to the state-of-the-art lighting system ensuring impeccable visibility.
History:
2020: The inaugural year for the Qatar Grand Prix was nothing short of eventful. It was introduced as an eleventh-hour replacement, maintaining the richness of the Formula 1 calendar despite the global challenges.
Its debut's success sparked conversations about Qatar's potential long-term association with Formula 1. These talks bore fruit with the recent 10-year pact signed between Qatar and Formula 1, commencing in 2023.
Betting Odds:
The odds for the race on December 1st will be posted closer to the event date.
-
View more
Sporting Contests