Chicago Marathon - Betting Odds, Event Details, History and Records
Date:
2024.10.13
Contest:
Marathon
Location:
Illinois, United States of America
The Chicago Marathon, held every year in Chicago, Illinois, is one of the six major World Marathon Majors. Starting in 1977, it has grown into one of the world's most famous and well-attended marathons, known for its memorable performances.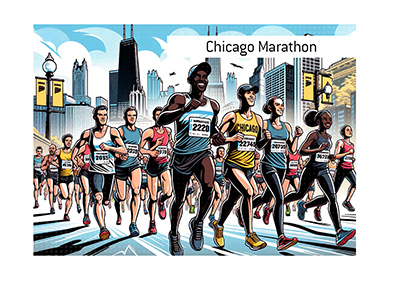 2023 Winners:
The Chicago Marathon was held on October 8, 2023. Kelvin Kiptum of Kenya set a new men's world record with a time of 2:00:35, while Sifan Hassan from the Netherlands ran the second fastest women's marathon in history.
-
This marathon features a flat and fast course, ideal for setting personal and world records. It begins and ends in Grant Park and winds through 29 varied neighborhoods in Chicago, offering runners a picturesque and culturally diverse journey.
Every year, the marathon draws thousands of participants, from professional athletes to amateurs. Due to its popularity, entry is often through a lottery system or qualifying via other marathons.
Apart from being a competitive event, the Chicago Marathon plays a key role in charity fundraising, with many participants supporting various causes. It also significantly boosts the city's economy by attracting a global audience of spectators and tourists.
More than just a sporting event, the Chicago Marathon is a celebration of athletic spirit, community, and the cultural richness of Chicago, uniting athletes, spectators, and local communities.
-
View more
Sporting Contests