Conor McGregor Will Be Big Favorite Against Nate Diaz in Trilogy Fight
Published on September 24th, 2017 4:18 pm EST
Written By:
Dave Manuel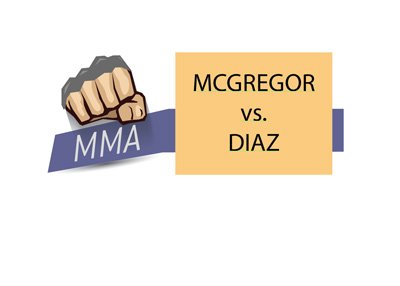 According to multiple rumors, the UFC, Conor McGregor and Nate Diaz all want to put on Nate Diaz vs Conor McGregor III next.
While the fight makes NO sense from a title perspective, McGregor vs Diaz III is what Conor McGregor wants next, and he has the leverage to request practically any fight that he wants at this point.
One of the conditions of the fight for the McGregor camp was that the trilogy bout take place at 155 pounds. It seems surreal that Nate Diaz has a decent chance of becoming the Lightweight champion, but this is where we are at. McGregor and Diaz have some "unfinished business", and the trilogy fight is likely the biggest bout that the UFC can put on right now, outside of perhaps McGregor taking on Georges St. Pierre.
Nate Diaz has been sitting on the sidelines up until this point, as he knows that McGregor wants to trilogy bout to finally settle things. This was a very smart move on Nate's part and he possesses a great deal of leverage heading into this fight.
Both men are looking to collect $10 million+ paydays from the UFC for this fight.
-
If the fight does take place at 155 pounds (which it almost certainly will), this definitely favors Conor McGregor, as Diaz was considerably larger for their second fight (which took place at 170 pounds).
Here are the current odds for McGregor/Diaz III:
Conor McGregor, -270
Nate Diaz, +210
As you can see, Diaz is more than a 3/1 underdog to win.
-
There are several reasons why McGregor is being given a big edge in the third fight:
1. Lightweight is McGregor's natural fighting weight, while Diaz has spent a considerable amount of time as a Welterweight.
2. McGregor improved his cardio from the first fight to the second fight, and it stands to reason that he will continue to improve going into the third fight.
3. McGregor's training for Mayweather likely improved his striking even more.
4. McGregor's "aura" and confidence will likely be at all-time high levels.
-
It seems as though McGregor/Diaz III is happening next, likely in early 2018.
Who do you think takes it?