The Wheels are Already in Motion For a McGregor Title Fight
Published on March 6th, 2022 3:02 pm EST
Written By:
Dave Manuel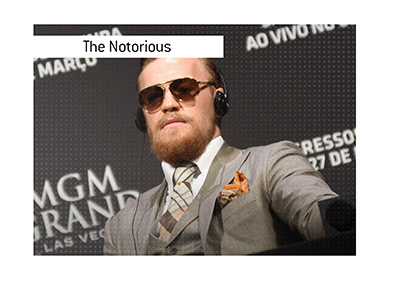 The wheels are already in motion.
The UFC is going to give Conor McGregor an immediate title shot when he returns to action, and there is nothing that you can do to stop it.
The thought of giving McGregor a title shot upon his return would strike most as bizarre.
After all, McGregor is 1-3 in his last four fights, including two consecutive losses to Dustin Poirier.
How could McGregor possibly earn a title shot after winning only once in over five years?
The answer, of course, is money.
-
The UFC is already greasing the rails for McGregor to get a title shot, and things are falling into place for them already.
First off - Lightweight champion Charles Oliveira is set to defend his title against Justin Gaethje at UFC 274 in May.
For his part, Oliveira has already said that he would have no problem letting McGregor "jump the line" when he returns. It's not hard to see why - as a champion (assuming that he beats Gaethje at UFC 274), Oliveira stands to make a pile of money in a defense against McGregor, as the champion automatically receives PPV points.
Against Conor McGregor, that translates into a pile of money.
Justin Gaethje has expressed his disdain for McGregor many times in the past, and if he wins the title, it's not hard to see him wanting to fight McGregor immediately as well. Personal animosity, combined with a bag of money.
So, right off the bat, both Gaethje and Oliveira would almost certainly take the fight against McGregor, mainly due to the way that champion contracts are structured in the UFC.
Now - what about Islam Makhachev, who was the clear choice to fight the winner of Oliveira/Gaethje?
That problem has already sorted itself out for the UFC.
According to UFC President Dana White, Makhachev turned down a last minute fight against Rafael dos Anjos at UFC 272. If Makhachev had taken that fight and won, denying him the next shot at the title would have been almost impossible for the UFC.
Instead, Dana White says that Beneil Dariush will be the next fight for Makhachev, as the promotion had planned that fight for February.
Dariush is out with an injury and is hoping to fight in the summer.
So, the UFC now has Makhachev on the sideline until he fights Dariush in the summer, all while McGregor continues to train for his return.
McGregor has said that he hopes to return in the summer, but let's say that he returns in the late summer/early fall.
Around the time that Makhachev fights Dariush, the UFC announces that McGregor is set to return and will fight the winner of Gaethje/Oliveira for the title, with the winner of McGregor vs Gaethje/Oliveira fighting the winner of Makhachev/Dariush.
Dustin Poirier lost his last fight against Oliveira, so he is out of the equation, and he will likely be fighting Nate Diaz or Colby Covington anyways.
Michael Chandler and Tony Ferguson will likely fight next, which takes them out of the equation.
Rafael dos Anjos and Dan Hooker are both ranked ahead of McGregor, but neither of those guys will be considered for a title shot.
-
So, suddenly Conor McGregor gets the title shot.
Dana White, Chael Sonnen and others are already starting to bring up the possibility of an immediate McGregor title shot.
It's certainly a strong possibility - in fact, I'd say that it's a favourite to happen.
All Dana White has to say is "Oliveria/Gaethje really wanted this fight, and all of the other guys are busy" and the McGregor title fight will happen.
And that's how Conor McGregor gets the next title shot.