Conor McGregor Favoured To Win Lightweight Fight
Published on January 20th, 2019 4:51 pm EST
Written By:
Dave Manuel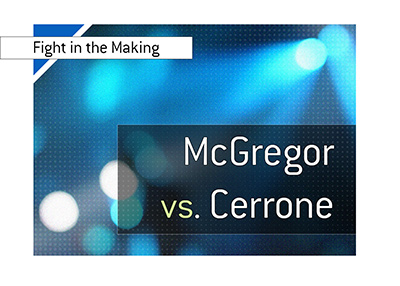 After finishing Alex Hernandez in the second round of their fight on ESPN+ last night, Donald Cerrone took to the microphone to ask for a fight against Conor McGregor.
McGregor, who was watching the fight at his home, quickly responded via Twitter that he would be happy to fight Donald Cerrone next.
McGregor/Cerrone has been talked about for a while now, as the fight would pit two fan favourites against each other. Both men enjoy trading on the feet, and both men are known for their spectacular knockouts. The fight would surely sell well with casual fans, making it a win-win for everybody involved. In addition, this is a very winnable fight for Conor McGregor, and the UFC is intent on building him back up as a legitimate title contender, rather than feeding him straight to Khabib Nurmagomedov straight away.
-
Cerrone has a very good ground game, though there is almost no chance that this fight would go to the ground. Cerrone is prideful and surely wants to knock the Irishman out.
McGregor is known for rushing his opponent in the earliest minutes of the fight before fading in the later round. Cerrone is known for his slow starts, so he will surely be playing it safe against McGregor in the earliest moments of the fight.
Cerrone has had trouble with southpaw fighters in the past, and McGregor is known for his counterattacks and is obviously a southpaw. This seems to be a fight that is tailor made for McGregor, though Cerrone certainly has a great chance of catching McGregor with a high kick. McGregor is great at keeping the fight at a range that he is comfortable with, which could prove to be trouble for Cerrone, especially if he can't get close to McGregor.
Cerrone has a ton of fights on him and is 35 years old. In addition, he has not been the best at dealing with pre-fight trash talk, though he has admittedly grown a great deal over the years in terms of his maturity.
-
Let's take a look at the current betting odds for this Lightweight fight:
Conor McGregor, -200
Donald Cerrone, +160
-
There are a number of reasons why this fight will almost certainly be made:
1) Conor McGregor wants it
2) The fight will do very big business
3) The fight is a great way to reward Donald Cerrone for a long career with the company
4) This is a very winnable fight for Conor McGregor
I would not be surprised to see this fight headlining the UFC's big cards on either Memorial Day weekend on in early July.