222-0 Georgia Tech Cumberland College Game Produced Many Weird Statistics
Published on July 5th, 2022 11:25 pm EST
Written By:
Dave Manuel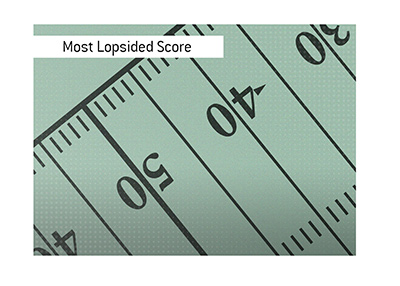 On October 7th, 1916, Georgia Tech beat down the hapless Cumberland College by a score of 222-0.
This remains the most lopsided score in the history of college football.
The game had an interesting backstory, as Georgia Tech was looking to avenge a 22-0 loss that its baseball team had suffered to Cumberland College in 1915. Georgia Tech alleged that Cumberland had stacked its team with professional players, and they were looking for revenge.
Cumberland had discontinued its football program but was committed to play Georgia Tech, so they loaded their team with fraternity brothers that had no clue what they were doing.
The result? A 222-0 beatdown.
-
One of the most unbelievable stat lines from this game is the fact that there were ZERO first downs officially recorded in the game.
How is this possible?
Well, to start, Cumberland posted zero first downs on offense, as they either punted or turned the ball over on every single drive.
Georgia Tech, on the other hand, scored on every set and never posted a first down without finding the endzone (touchdowns were not recorded as first downs).
The result? A college football game with zero first downs.
-
This game had all sorts of incredible statistics, including:
1. Zero passes attempted by Georgia Tech
2. 15 Turnovers by Cumberland
3. 4.5 points per PLAY averaged by Georgia Tech
4. 24 Touchdowns by Tech that took 0 or 1 plays
5. 10 offensive plays by Georgia Tech did not go for touchdowns