Mark Ingram Barely Edged Out Toby Gerhart in 2009
Published on August 31st, 2023 4:44 pm EST
Written By:
Dave Manuel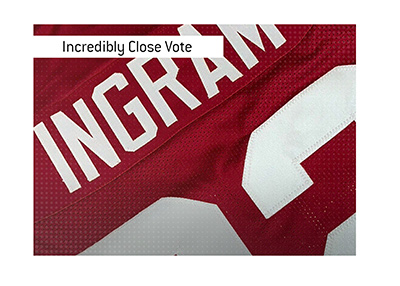 We've heard about the biggest Heisman Trophy victories of all time - now, which Heisman Trophy vote was the closest?
In 2009, two running backs - Mark Ingram and Toby Gerhart - battled it out for the Heisman Trophy.
The vote for the 2009 Heisman Trophy was the closest in the history of the award - here is how it broke down:
Mark Ingram - 1304 points
227 1st place votes
236 2nd place votes
151 3rd place votes
Toby Gerhart - 1276 points
222 1st place votes
225 2nd place votes
160 3rd place votes
In fact, Colt McCoy was also closing to winning in 2009, as he finished with a total of 1,145 points, earning a total of 203 first place votes.
-
You could certainly make an argument for either Mark Ingram or Toby Gerhart winning the Heisman in 2009.
Ingram had 1,658 rushing yards and 17 rushing TDs, while Gerhart had 1,871 rushing yards and 28 TDs.
Gerhart had 72 more rushing attempts, and Ingram averaged almost half a yard more per carry.
Ingram added 334 receiving yards and 3 receiving touchdowns, giving him almost 2,000 yards from scrimmage.
Gerhart, on the other hand, had 157 receiving yards.
-
The deciding factor for voters was likely the performance of Ingram's and Gerhart's respective teams.
Alabama was dominant in 2009, finishing with a perfect record.
Stanford, on the other hand, was 8-4.
-
In the end, an incredibly close vote.