Cleveland Cavaliers Open as Big Favourites to Defeat Boston Celtics
Published on May 10th, 2018 7:55 pm EST
Written By:
Dave Manuel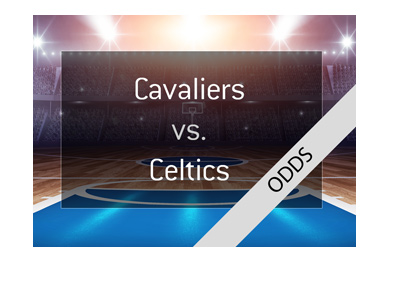 Can the Boston Celtics defy expectations once again by defeating the Cleveland Cavaliers and making it through to the NBA Finals?
The bookmakers certainly don't think so.
According to a major offshore bookmaker, the Cleveland Cavaliers are -300 favourites to defeat the Boston Celtics in the NBA's Eastern Conference Finals.
The Boston Celtics, who have been scrappy to say the least dealing with the absence of both Kyrie Irving and Gordon Hayward, are +240 to win.
The biggest difference in this series is obviously Lebron James, who almost single-handedly defeated the Indiana Pacers and Toronto Raptors. While the Pacers series pushed James to the edge, the Cavaliers were able to handle the Raptors in 4 games, earning their best player some much needed rest.
In what is even worse news for Celtics' fans, Kevin Love and Kyle Korver both played tremendously for the Cavs as well in the second round, which will make the team even harder to beat. When Kevin Love is on his game, the Cavaliers are very hard to stop.
The Celtics will have to figure out a way to try to stop Lebron James, which has proven to be nearly impossible in the post-season. Brad Stevens and the Celtics will have their work cut out for them as they try to deny James an eighth straight trip to the NBA Finals - while the Celtics have likely played above their weight so far this off-season, Lebron James has been on another level and is seemingly destined for a clash against the Rockets or Warriors in the finals.
-
Last season, the Cavaliers rolled into Boston in the first round of the playoffs and swept the Celtics.
It seems almost impossible to imagine the Celtics beating the Cavaliers over the course of a seven game series. They may win a game or even two, though beating Lebron James four times over the course of a 7 game series? That seems like a very, very long shot.