Mousasi Very Slight Favourite To Defeat Weidman at UFC 210
Published on March 19th, 2017 3:48 pm EST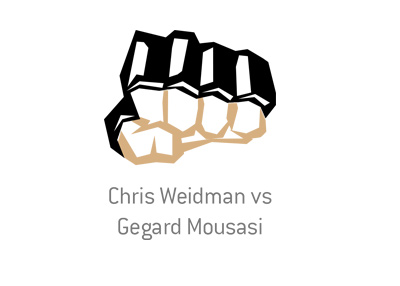 The co-main event of UFC 210: Cormier vs Johnson 2 will feature a very compelling Middleweight fight between former champion Chris Weidman and former Strikeforce champion Gegard Mousasi.
Chris Weidman, who was at one time one of the UFC's most dominant fighters, is currently in the midst of a two fight losing streak that includes losses to Yoel Romero and Luke Rockhold. Both of those losses were tough KO losses, with the Romero fight providing fans with a particularly gruesome knockout of Weidman that has been replayed thousands of times ever since.
It is somewhat incredible to think that Weidman, who defeated Anderson Silva twice, could be in very real danger of putting up a three fight losing streak.
Weidman is going to be facing off against the incredibly tough Gegard Mousasi, who has been a one-man wrecking crew since losing to Uriah Hall in September of 2015. Since that time, Mousasi has beaten Thales Leites, Thiago Santos, Vitor Belfort and Uriah Hall, with three of those four fights ending in spectacular knockouts. Mousasi had been clamouring for a step up in competition and he will certainly get it when he squares off against the former Middleweight champion.
-
Gegard Mousasi is a very slight favourite to beat Chris Weidman, though the odds are razor close as you can see below:
Gegard Mousasi, 4/5
Chris Weidman, 1/1
So, according to these odds, Mousasi is slightly better than a coin flip to win, while Weidman is even money.
Here are the method of victory odds:
Weidman by Decision or Technical Decision, 7/4
Mousasi by Decision or Technical Decision, 5/2
Mousasi by KO, TKO or DQ, 7/2
Weidman by KO, TKO or DQ, 6/1
Weidman by Submission, 8/1
Mousasi by Submission, 8/1
Draw or Technical Draw, 66/1
Here are the round betting odds:
Chris Weidman on Points, 7/4
Gegard Mousasi on Points, 5/2
Mousasi Round 1, 5/1
Weidman Round 1, 6/1
Mousasi Round 2, 8/1
Weidman Round 2, 10/1
Mousasi Round 3, 12/1
Weidman Round 3, 16/1
Draw, 66/1
Finally, the total round over/under is currently set at 2.5 rounds:
Over 2.5 Rounds, 8/15
Under 2.5 Rounds, 13/8
-
This is a fight in which the two combatants are good at literally every aspect of fighting. Weidman employs a wrestling heavy style, while Mousasi is extremely well rounded.
This fight could easily end up winning Fight of the Night on this card. There is a great deal on the line for both men in this fight, as a title shot is possible for both with a win.