Former Champion Weidman 2.60 To Defeat Gastelum
Published on July 19th, 2017 12:25 pm EST
Written By:
Dave Manuel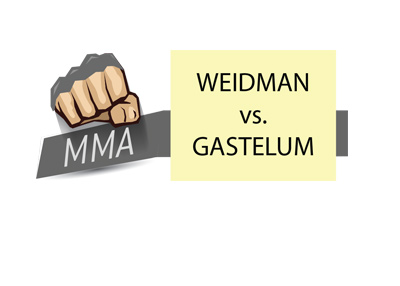 The main event of UFC on Fox 25 features a very intriguing Middleweight fight between former champion Chris Weidman and Kelvin Gastelum.
Weidman, who was once one of the most seemingly unbeatable champions in the UFC, has dropped his last three fights in a row. Weidman's last victory came against Vitor Belfort at UFC 187 in May of 2015.
Weidman has continued to fight against very tough opponents, as his three losses have come against Gegard Mousasi, Yoel Romero and Luke Rockhold. That is a veritable Murderer's Row when it comes to the Middleweight division.
Having said that, there is no denying the importance of Saturday's fight for Weidman, as his fourth loss in a row would send him hurtling down the Middleweight rankings.
Kelvin Gastelum, on the other hand, is just 25 years of age and certainly looks like a future champion. Gastelum is undefeated in his last three fights, with his last fight resulting in a no-contest after he tested positive for marijuana. Prior to that, Gastelum had notched victories over Tim Kennedy and Johny Hendricks.
There have been issues with Gastelum and his weight, though those issues seem to be in the past now following a move up to the Middleweight division.
-
Weidman enters Saturday's fight as the underdog - here are the betting odds:
Chris Weidman, 2.60
Kelvin Gastelum, 1.59
As you can see, the odds are fairly close, though Gastelum is the slight favourite to win.
Both men employ wrestling heavy games, so this fight will likely come down to striking.
Gastelum is amazingly quick and possesses knockout power in his hands. Momentum is certainly a thing in mixed martial arts, and I think that you have to take Gastelum and his positive momentum in this fight. Weidman may be tentative due to his three straight losses, and tentative is something that you don't want to be when fighting somebody like Gastelum.
Take Gastelum in this fight.