Cheltenham Festival Kicks Off Later This Week
Published on March 13th, 2017 2:55 am EST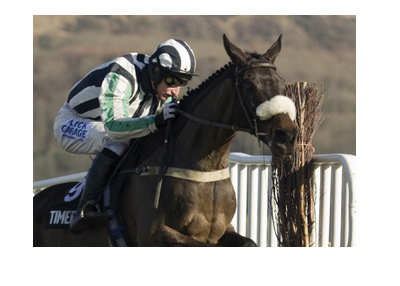 The Cheltenham Festival, which is one of the largest horse racing festivals in the United Kingdom, gets underway later this week.
The festival will take place at the Cheltenham Racecourse in Cheltenham, Gloucestershire and is one of the most wagered on events of the year in the UK.
The Cheltenham Festival gets underway on Tuesday, March 14th and includes a number of different races, including the Supreme Novices Hurdle, Arkle Trophy and Ultima Handicap Chase.
Here are the odds for each of Tuesday's races as of this moment - please note that these are subject to change as the races draw closer:
Supreme Novices Hurdle
Melon, 3/1
Ballyandy, 7/2
Bunk Off Early, 13/2
River Wylde, 9/1
Crack Mome, 12/1
High Bridge, 14/1
Airlie Beach, 16/1
Cilaos Emery, 20/1
Let's Dance, 20/1
Beyond Conceit, 25/1
Arkle Trophy
Altior, 1/3
Yorkhill, 9/2
Charbel, 8/1
Royal Caviar, 14/1
Cloudy Dream, 16/1
Some Plan, 16/1
Forest Bihan, 20/1
Top Notch, 20/1
Flying Angel, 25/1
Le Prezien, 25/1
Ultima Handicap Chase
Noble Endeavor, 8/1
Singlefarmpayment, 8/1
The Druids Nephew, 10/1
Holywell, 12/1
Champers on Ice, 14/1
Henri Parry Morgan, 14/1
Ibis Du Rheu, 14/1
Road to Respect, 16/1
Un Temps Pour Tout, 16/1
Label Des Obeaux, 18/1
Champion Hurdle
Yanworth, 3/1
Buveur Dair, 9/2
Petit Mouchoir, 7/1
Brain Power, 15/2
Moon Racer, 10/1
The New One, 14/1
My Tent or Yours, 16/1
Footpad, 20/1
Chtibello, 33/1
Sceau Royal, 33/1
Mares Hurdle
Limini, 13/8
Vroum Vroum Mag, 5/2
Apples Jade, 9/2
Jers Girl, 12/1
Lifeboat Mona, 14/1
Colins Sister, 25/1
Midnight Jazz, 40/1
Briery Queen, 50/1
Rons Dream, 50/1
The Organist, 50/1
National Hunt Chase
A Genie in Abottle, 5/1
Edwulf, 6/1
Beware the Bear, 10/1
Champers on Ice, 10/1
Arpege Dalene, 14/1
Bellshill, 14/1
Bigbadjohn, 14/1
Martello Tower, 14/1
American, 16/1
Flintham, 20/1
Close Brothers Novices Handicap Chase
Foxtail Hill, 7/1
Romain De Senam, 8/1
Value at Risk, 9/1
Itsafreebee, 12/1
Brother Tedd, 14/1
Gold Present, 14/1
Squouateur, 14/1
Double Ws, 16/1
Hammersly Lake, 16/1
Poker School, 16/1
-