Champions League Football Matchups - September 14th - Manchester City vs. Napoli, Villareal vs. Bayern Munchen etc.
Published on September 14th, 2011
Click Here to Qualify for a £200 Bonus at Bet365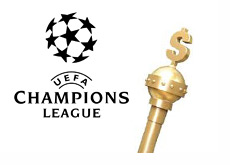 Another round of the Champions League is up for grabs tonight with 8 games on the menu. Let's have a look at them.
Manchester City vs. Napoli
Consensus is that the Man City will win tonight at home. They have won last four convincingly and are scoring a lot with Dzeko, Aguero, Tevez, Nasri, and Silva hitting on all cylinders. Not to forget that the defense is also rock solid. Napoli on the other side has his own stars in the likes of Cavani, who scored 26 goals in Serie A last year and Pandev who is over on loan from Inter where he didn't figure in the coaches plans. Pandev will be looking to find his touch for scoring goals from the Lazio era, where he was scoring on a regular basis. Lavezzi, who led them in assists last year, will play with Hamsik and Inler in the middle, which is by all means a very solid midfield line-up.
Considering that both teams are playing well the 1,33 odd on Manchester City doesn't look so attractive tonight , but we think that this will be an open game, especially if one team concedes score early, which they can. A hard fought win for City in an entertaining match with a lot of goals tonight, City might even trail at half-time. Will Dzeko and Cavani score…Probably! Enjoy this one.
King's Picks:
Manchester City to win - 1,33;
Halftime/Fulltime Napoli/Manchester City – 26,00;
Scorer s: Dzeko – 2,10; Cavani – 3,10
Villareal vs. Bayern Munchen
Here is a nice match with some nice odds. Bayern looks very good right now and Villareal really doesn't. Bayern has won last five, Villareal have only played four games this season and have won only once. Gomez for Bayern is hot right now and has solid support in the likes of Muller and Olic, who is back from injury. Midfield led by Ribery and Schweinsteiger is one of the best in Europe so look for Bayern to really be contenders to go all the way this year. Villareal have brought in some new faces to their team, namely De Guzman and Zapata, but that really was all they did in the offseason. They still have their core team from last year and Nilmar loves playing these big ones.
Advantage Bayern Munchen. Their victory pays 1,93 and we feel that this is a good bet tonight.
King's pick:
Bayern to win – 1,93
Lille vs. CSKA Moscow
French champions are meeting the Russian side CSKA Moscow which was beat 4-0 at home last weekend by a strong Dinamo Moscow side. CSKA is a regular in the Champions League these past years while for Lille this marks the return to competition since they last played in 2007 season. Lille is hot right now, playing well in their league having won their last three after struggling in the first two rounds. CSKA is second through 23 rounds of the Russian league, so perhaps a bit more tired, which showed last weekend in the Moscow derby. On paper these two teams match-up rather nicely and the teams values show that. Lille estimated at 115 million Euros while CSKA is valued at 130 million Euros. The win for Lille pays 1,70, which is not bad considering the current forms of the two teams. This will probably be a relatively low scoring affair so expect 3 goals or less, even a goalless first half.
King's picks:
Lille to win – 1,70
3 goals or less – 1,28
No goals at half time – 2,85
Internazional Milan vs. Trabzonspor
The Italian giants meet the Turkish runners up who are in the Champions league thanks to the expulsion of Fenerbahce. There is not much to say about this game except that the Inter is a large favorite and will be looking to make up for their defeat in the first round of Serie A to Palermo last weekend. Forlan is not available to play until the spring tough and that will complicate things for the Italian side, who will count on Milito and Pazini to make the difference. Trabzonsbor more noticeable name is Halil Altintop who came over from Germany and Didier Zokora who came over from Sevilla. Still Inter being a stronger team all around should not face many problems in this match. Look for Milito to be active in front of the guest's goal which will very likely be under siege tonight.
King's pick:
Inter Milan to win – 1,40
Milito to score – 2,00
Handicap 0:1 – Inter Milan – 2,05
Basel vs. Otelul Galati
Here is the one that looks like a safe pick for tonight. Newcomers, Rumanian side Otelul Galati are not in the best of forms, currently 14th in their national championship after 6 rounds, while Basel is an experienced Champions League team which has picked up its form after a slow start to their national campaign. Basel won the last two and their Swiss attacking tandem of Frei and Steller, although in their thirties, is still as dangerous as ever. Look for Basel to win this one without conceding a goal.
King's pick:
Basel to win – 1,48
Away team scores no goal – 2,00
Benfica vs. Manchester United
Two good teams are playing tonight in Portugal. Both are right at the top of their leagues and are manhandling their opposition, both home and away. Manchester United are favorite to win but with a nice 2,00 odd offered by the bookies. This one is worth looking at tonight as you play, because we just don't think Benfica can match up with the ManU speed and strength at this moment. Rooney will start and probably score at least one in what will be an open game.
King's pick:
Manchester United wins – 2,00
Rooney scores – 1,90
Ajax vs. Lyon
Good one is brewing in the Dutch capital tonight. Ajax play hosts to Lyon, who always play well in the Champions League. Ajax on their part has won four of their last five in the league and has been scoring a lot. Lyon has not been scoring as much and has not really been dominant this year in their matches. Gomis has been keeping them a float three goals this season already. Look for him to cause trouble for Ajax tonight as well. Ajax has a quick and young team and is really fun to watch, especially the super quick Sulejmani. Slight advantage given to Ajax here so perhaps a 1X could be the right bet. Gomis is dangerous, don't forget that one either.
King's pick:
Ajax Win or draw – 1,33
Gomis scores – 2,70
Dinamo Zagreb vs. Real Madrid
Tonight's match in Zagreb should a one-sided affair largely in favor of Real Madrid. They come to Zagreb to face a good looking Croatian side Dinamo, which is back in the Champions League since 2000. Their international Leandro Coufre is out with an injury which will expose their defense tonight for sure. Benzema and Cristiano Ronaldo are expected to start and probably score as well. Dinamo playing at home will put up some resistance tonight, but it won't hold for long. Perhaps one half.
King's pick:
Real Madrid to win – 1,22
Halftime/Fulltime X/Real Madrid – 4,33
Benzema scores – 2,00