CFL Clubs Drafted Dead Players in Back-to-Back Years
Published on March 19th, 2022 2:57 pm EST
Written By:
Dave Manuel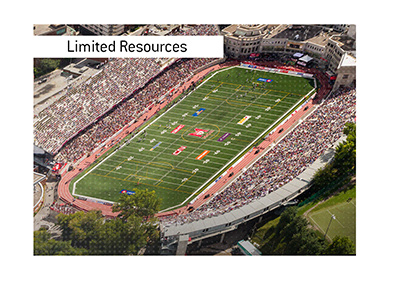 In the mid '90s, CFL (Canadian Football League) clubs drafted dead players not once but two years in a row.
The CFL is not the NFL and has to work with limited resources - after all, Canadian Football League teams bring in millions of dollars, while NFL teams bring in billions of dollars. CFL teams often operate on shoestring budgets, so keeping track of hundreds of different players across North America can prove to be difficult.
On two separate occasions, however, CFL teams committed the ultimate gaffe - drafting players that were no longer with us.
-
The first instance happened in the 1995 Las Vegas Posse dispersal draft.
The Ottawa Rough Riders selected defensive end Derrell Robertson in the fifth round, only to discover that he had passed away in a car crash roughly five months earlier.
The second instance occurred a year later, when the Montreal Alouettes selected defensive end James Eggink in the fifth round of the Canadian college draft in 1996.
After the draft, a football coach at Concordia University noticed Eggink's selection and called the Montreal Alouettes to inform them that Eggink had passed away from cancer a number of months prior.
After being informed of the mistake, Montreal Alouettes owner Jim Speros called the Eggink family to personally apologize for the mistake.
-
As mentioned, the CFL has limited resources and things can sometimes fall through the cracks.
Since the mid '90s, the CFL has been more vigilant in vetting the names of players eligible for the draft, and they haven't had any embarrassing mistakes since.
Source: AP News -
Second Year in a Row CFL Team Drafts Dead Player