Cedric Benson Did NOT Want To Be Drafted By The Chicago Bears
Published on September 29th, 2023 12:37 pm EST
Written By:
Dave Manuel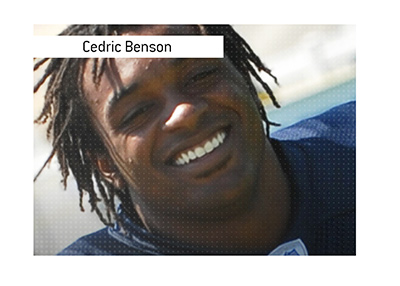 Heading into the 2005 NFL Draft, Cedric Benson and his representatives had a very clear message for the Chicago Bears:
Don't draft me.
The standout running back for Texas, who had rushed for 1,834 yards and 19 touchdowns in his senior year, was unable to come to contract terms with the Bears prior to the draft.
This led Benson and his team of representatives to warn the Bears against drafting him.
The Bears did anyways.
-
With the fourth overall pick in the 2005 NFL Draft, the Chicago Bears selected Cedric Benson.
Benson was emotional after the selection, though not for the reasons that you think - he was extremely angry that the Bears had selected him.
The contract issues spilled over into training camp, and Benson would hold out for over a month before signing a 5-year, $35 million contract with the Bears.
The problem?
Benson had missed all of training camp, and the Bears named Thomas Jones the starting running back to kick off the season.
Benson also claimed that the players on the team were icy towards him when he did join the team. According to some reports, some of the Bears were so mad at Benson that they tried to injure him during practice.
-
Thomas Jones outperformed expectations, which led to Benson seeing reduced playing time to start his season.
To make matters worse, Benson sprained his MCL during his rookie campaign and missed most of the year.
In 2006, Jones was named the starting running back once again.
Benson would see spotty play during his three years with the Bears, rushing for roughly 1,500 yards over three seasons.
-
Benson, who would claim that he was never happy while playing for Chicago, would be released in 2008 following an alcohol-related arrest.
Benson would have some very productive years with the Cincinnati Bengals, where he would rush for as much as 1,251 yards in a single season.
Benson, however, constantly found himself in legal trouble, and the Bengals declined to re-sign him after the 2011 season.
After a short stint with the Packers, Benson would retire after suffering a foot injury.
-
Cedric Benson would tragically pass away in a motorcycle accident in 2019.