NFL Games Are Rarely Cancelled
Published on January 6th, 2023 3:36 pm EST
Written By:
Dave Manuel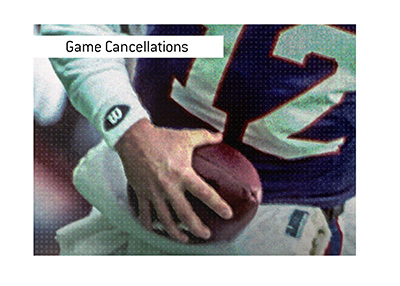 In Week 17 of the 2022-23 NFL season, something unprecedented happen:
A NFL game was completely cancelled after it had already started.
This has never happened in the history of the league.
After a major injury to Buffalo Bills defensive back Damar Hamlin, the game was called with 5:58 remaining in the first quarter.
The league decided that there was no way to resume the game after the fact, and the game was declared a no-contest.
Let's look at some of the previous instances when NFL games were cancelled.
-
Back in the earliest days of the league, games were cancelled all the time.
This was before TV deals and multi-million dollar player contracts.
Prior to 1933, when league schedules were standardized, teams would cancel games all the time for any number of reasons.
Since that time, NFL regular season games have been cancelled on three different occasions - once for the reason listed above (Bills/Bengals game) and twice due to labor issues.
In 1982, players decided to strike following the end of Week 2 of the regular season.
The strike lasted nearly two months, with things finally getting resolved at the end of Week 10.
Instead of electing to reschedule the missed games, the league simply decided to resume play from Week 11.
The eight weeks of games were simply cancelled.
In 1987, there was another player's strike that started after the season had already begun.
After shutting down in Week 3, the NFL started up again in Week 4, using replacement players.
A number of players crossed the picket lines to play, which resulted in a weakening of the player's position. A deal was reached and by Week 7, things were back to normal, but the Week 3 games were never made up.
-
A number of preseason games have been cancelled in the past, due to a number of different reasons, ranging from poor field conditions to labor stoppages (2011) to 9/11 to COVID-19 to bad weather.
Regular season games in the "modern" era of the NFL, however, have only been cancelled on three different occasions.