"Megatron" Shocked The World When He Retired at 30
Published on July 16th, 2022 2:12 pm EST
Written By:
Dave Manuel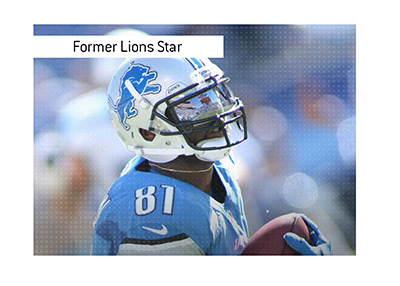 On March 8th, 2016, Calvin Johnson, the star wide receiver of the Detroit Lions, announced his retirement.
For the second time in a couple of decades, fans of the Detroit Lions had to deal with a superstar player announcing an early retirement (Barry Sanders was the other).
Johnson was just 30 years of age when he retired, and was coming off of a season where he posted 1,214 receiving yards and 9 touchdowns in 16 games.
Why was Calvin Johnson retiring, while he still seemed to be in his prime?
-
At the time, the future Hall of Famer said that nagging injuries were forcing him to step away from the game of football.
Johnson, who was elected to the Pro Football Hall of Fame in 2021, said that he had been dealing with a back injury since entering the league that was having an impact on his overall quality of life.
"Megatron", as he was called by many, was going to focus on healing his body and venturing into the business world.
-
While there is no doubt that injuries played a part in Johnson stepping away from the game, an acrimonous relationship with the Detroit Lions organization almost certainly hastened the move.
Johnson has said that he had asked out of the organization, as he was tired of consistently losing.
According to Johnson, the team wouldn't honor his request, choosing to keep the superstar instead.
Years after retiring, "Megatron" said that he would have played for literally any other team, though the Lions wouldn't accommodate his trade request.
Instead, Johnson took matters into his own hands, retiring in early 2016.
-
The relationship between Johnson and the Lions continued to break down after he announced his retirement.
The team took the step of asking Johnson for part of his signing bonus back (he signed an extension in 2012), which is a very unusual step when it comes to a retiring athlete.
This led to open hostility between Johnson and the Lions, as it was seen as a petty move by the franchise to punish "Megatron".
The two sides apparently opened negotiations prior to his Hall of Fame induction in 2021, with the Lions reportedly offering Johnson an appearance deal.
Johnson instantly turned it down.
-
On top of that, Johnson was angered when the Lions traded Matthew Stafford to the Los Angeles Rams after the QB reportedly asked for a trade.
-
So, in short, Johnson publicly stated that he was retiring due to injuries, though his deteriorating relationship with the Lions certainly seems to have shaved years off of his career.