Buffalo Bills Become First Team To EVER Post Perfect Offensive Game
Published on January 16th, 2022 2:38 pm EST
Written By:
Dave Manuel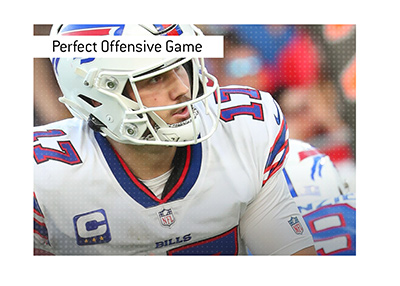 On Saturday night, the Buffalo Bills did something that NO team has ever done in the HISTORY of the NFL.
They played a "perfect" offensive game.
-
So what qualifies for a "perfect" offensive game?
Zero punts.
Zero interceptions.
Zero fumbles lost.
Zero field goals.
Zero possessions lost on downs.
Aside from the kneel downs at the end of the game (where they didn't lose possession), the Buffalo Bills scored touchdowns on each and every one of their drives.
Josh Allen and company completely owned the Patriots' defense, which was considered one of the best in the league heading into the postseason.
The beginning of the game would tell the entire story, as the Bills drove down the field at will.
The Patriots were left bamboozled, unable to cover all of the Bills' weapons.
Anytime the Bills were in trouble, Josh Allen would simply scramble for a first down.
A perfect football game on offense.
-
The perfect offensive game is nearly impossible to pull off, but the Buffalo Bills managed to enter the record books on Saturday evening.