Milwaukee Bucks Sign New Arena Naming Rights Deal With Fiserv
Published on July 30th, 2018 - 10:27am EST
Written By:
Ned Wilson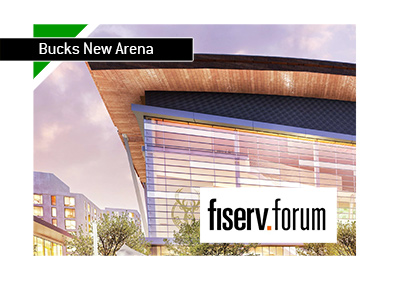 The Milwaukee bucks have just announced a new naming deal for their arena, which was signed for a 25-year period with a local financial tech firm Fiserv. The deal is believed to be valued at $6 million per year and will see the soon to be completed arena renamed from Wisconsin Entertainment and Sports Center to Fiserv Forum.
The Fiserv Arena is scheduled to open next month and will host Marquette Golden Eagles college basketball team along with the Bucks.
At $6 million per year, this appears to be the 4th most lucrative deal in the NBA, with only three arenas having commanded more money for the naming rights.
The most valuable deal thus far is the sale of naming rights for the Brooklyn Nets arena, valued at $10 million per year and signed with Barclays in 2010 for 20 years. The arena is shared with the NY Islanders of the NHL.
The naming rights for the Atlanta Hawks' Philips Arena, currently stand at $9.25 million per season, with the contract expiring next year after the 20 year deal was signed in 1999. The American Airlines center of the Dallas Mavericks currently stands at $7.5 million per year in a deal that is signed until 2030.
TD Banknorth Garden, the home of the Celtics and Bruins, is valued at around $6 million per season and puts it right on par with the announcement made by the Bucks. That same value is signed for the Staples Center, where L.A. Lakers and L.A. Clippers play.
The Bucks previous deal with BMO Harris Bradley was valued at only $1 million per year and this significantly-improved new deal shows that the sponsors still see the arena naming rights as very lucrative space for their promotion. And with some current sponsorship deals coming to an end, it will be interesting to see how the value of these naming rights will evolve over time.