These Two Brett Favre Records Will Likely Never Be Broken
Published on February 20th, 2023 2:00 pm EST
Written By:
Dave Manuel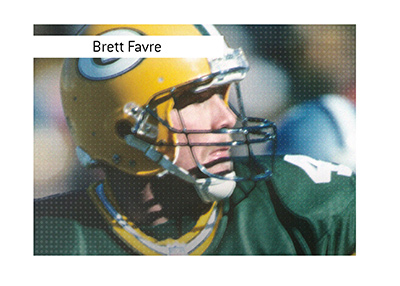 Brett Favre, former quarterback of the Green Bay Packers, New York Jets and Minnesota Vikings, holds two NFL records that will almost certainly never be broken:
1) Career Interceptions
2) Consecutive Starts
-
Brett Favre was known for his toughness, and it evidenced by his unbelievable consecutive games started streak (regular season), which clocked in at an amazing
297
games.
This period stretched from September 27th, 1992, all the way to December 5th, 2010.
For over 18 1/2 seasons, Favre never missed a single start, despite battling through a number of injuries.
It's unbelievable enough that Favre played for over 18.5 seasons - to not miss a single game during that stretch is mind-blowing and will almost certainly never happen again.
The player that is behind Favre on the consecutive starts list? Jim Marshall, who started 270 straight games for the Minnesota Vikings.
The current active leader for consecutive games started is Jake Matthews of the Atlanta Falcons, who has started 143 straight games. (as of February 2023)
Matthews, who is 31 years old, isn't even halfway to Favre's record.
-
Favre's other unbreakable record - his lifetime career interception mark.
Over his career, Favre threw a mind-boggling 336 interceptions, almost 60 more than the next closest player on the list, George Blanda.
Favre was known as being a "gun-slinger", as he had no problem throwing high-risk/high-reward passes.
This resulted in plenty of touchdowns, as well as plenty of interceptions.
Let's put Favre's 336 interception mark into some perspective.
Tom Brady, who recently just retired, finished his career with 212 interceptions, more than 100 behind Favre's mark.
The current active leader in interceptions is Matt Ryan, who is likely on the brink of retirement and who has thrown 183 interceptions over the course of his career.
In order for anybody to break Favre's record, they would need to play an exceptionally long career, be an extremely talented but risk-loving quarterback, and not have to fend off any challenges for their starting job over the course of a 20-year career.
-
These two records will almost certainly never be broken.