The Story of Bill Russell, Red Auerbach and the Ice Capades
Published on November 28th, 2022 1:07 pm EST
Written By:
Dave Manuel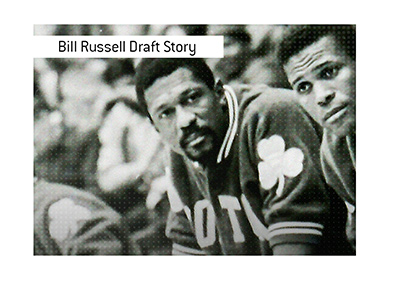 Bill Russell is regarded by most as being one of the very best NBA players of all time.
The numbers and accolades back this up - Russell was an 11x NBA champ, a 5x MVP and a 12x All-Star.
In a different world, however, Russell wouldn't have ended up with the Boston Celtics.
In a different world, Russell would have been drafted by the Rochester Royals with the first overall pick in the 1956 NBA Draft.
The Ice Capades, however, would result in Russell ending up with the Boston Celtics, and the rest is history.
-
Heading into the 1956 NBA Draft, Boston Celtics coach Red Auerbach had decided that Bill Russell was his guy, and he was going to do whatever necessary to acquire him.
The problem?
The Celtics didn't have the #1 overall pick in the draft.
Auerbach got to work - remember, this was before the days of the CBA.
Auerbach first had to make sure that the Rochester Royals didn't select Russell with the #1 overall pick, and he was armed with three crucial pieces of information:
1) The Royals already had a similar player to Russell on their roster
2) The Royals (and their ownership) were strapped for cash
3) Bill Russell would need a $25,000 bonus to sign
-
According to Auerbach, the Celtics offered the Royals a number of performances of the "Ice Capades", with a minimum guaranteed number for each event. These performances would be held in Rochester and would inject much-needed money into the coffers of the ownership group.
In exchange? The Royals wouldn't take Russell with the first overall pick.
This was clear collusion, and this obviously wouldn't happen in this day and age.
These were different times, however.
The Royals agreed and ultimately took Sihugo Green with the first overall pick.
-
The St. Louis Hawks owned the #2 overall pick, and they were going to make the Celtics pay.
The Hawks selected Bill Russell with the #2 overall pick, but they were using this as a bargaining chip to get the player that they truly wanted, All-Star Ed Macauley.
Macauley was a native St. Louis resident, and had previously asked to be traded to St. Louis to be with his ill son.
The Celtics agreed to trade Macauley for Russell, but the Royals wanted more, and eventually got Cliff Hagan as well.
The deal was done - Bill Russell was sent to the Celtics in exchange for Ed Macauley and Cliff Hagan, and the rest is history.
-
The Celtics got Bill Russell, the Royals got Macauley and Hagan, and the Rochester Royals got the Ice Capades.