Khamzat Chimaev Joins an Elite List of Fighters Who Botched Their Weight Cuts
Published on September 10th, 2022 4:26 pm EST
Written By:
Dave Manuel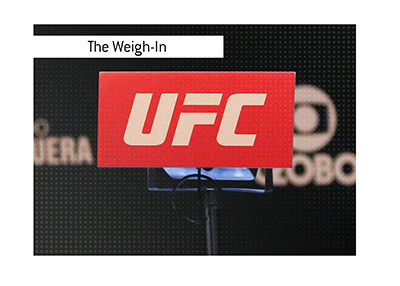 Missing weight is one of the worst things that you can do as a UFC fighter.
Missing weight for an important fight (such as a title fight) is a great way to get buried by the promotion.
Here are five instances when UFC fighters missed weight for very important fights:
1. Travis Lutter, UFC 67.
It was supposed to be the biggest day of Travis Lutter's professional career - instead, it was a disaster.
After winning the Ultimate Fighter, Travis Lutter was the challenger for Anderson Silva's Middlweight title.
Lutter, however, missed weight for the UFC 67 title fight, and the bout was changed to a non-title, three-round fight.
Silva ended up winning in the second round, and Lutter was booed soundly by the fans in attendance.
Lutter would lose his next fight to Rich Franklin, after which he was promptly cut, never to fight in the UFC again.
2. Charles Oliveira, UFC 274.
This one was controversial, as many people contended that there was an issue with the scale that the fighters were using to weigh in.
Regardless, Oliveira missed weight by a half a pound, and his Lightweight title was stripped from him.
Oliveira would face Gaethje at UFC 274 - since Oliveira missed weight, he was not given the belt after his first round victory.
The UFC seemed to side with Oliveira in this case, and he is being given a chance to regain his title at UFC 280.
Still, the entire situation was a disaster.
3. Khamzat Chimaev, UFC 279.
Khamzat Chimaev was supposed to square off against Nate Diaz in the main event of UFC 279.
Chimaev, however, badly missed weight, and the Chimaev/Diaz fight was called off.
This resulted in a few hours of absolute pandemonium as the UFC tried to make new fights.
At the face-offs, Chimaev came out to a chorus of boos, and proceeded to flip off the audience.
While Chimaev didn't suffer too much (he was rebooked against Kevin Holland), his standing with the fans took a beating.
4. Yoel Romero, UFC 221.
Yoel Romero was slated to square off against Luke Rockhold for the interim UFC Middleweight title, but ended up missing weight.
As a result, Romero was ineligible to win the title.
Romero would beat Rockhold and end up getting the title shot anyways, though he likely missed out on a nice PPV payday at UFC 225, as he wasn't a title holder when he fought Robert Whittaker to unify the two titles.
5. Yoel Romero, UFC 225.
Yoel Romero would miss weight AGAIN for a title fight, as he ended up missing weight by 0.2 pounds.
The UFC 225 fight against Robert Whittaker was changed to a non-title bout, which Romero ultimately lost.
Yoel Romero's reputation with the UFC was significantly damaged after these two weight misses in title fights.
After losing to Israel Adesanya at UFC 248, the UFC didn't make much of an effort to resign Romero, and he signed with Bellator.