New York Jets Defeating Baltimore in Super Bowl III Still Biggest Upset Ever
Published on January 12th, 2020 12:27 pm EST
Written By:
Dave Manuel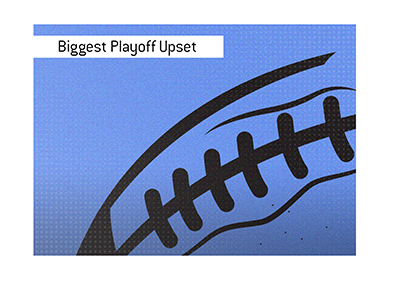 With the 9-7 Tennessee Titans heading into Baltimore to shock the 14-2 Baltimore Ravens on the road last night, many people are now wondering where this stacks up on the list of all-time greatest playoff upsets.
In reality, Titans/Ravens isn't even close to the biggest upset of all time. The Titans were 9.5 point underdogs heading into the Divisional Round game against the Ravens, and there have been much bigger upsets in the past.
-
The most shocking outcome in a NFL playoff game still belongs to Super Bowl III, when Joe Namath and the New York Jets defeated the Baltimore Colts by a score of 16-7.
The Jets were
18 point underdogs
heading into the game, and it's not hard to see why.
The Colts finished their regular season with a record of 13-1 while absolutely throttling their competition. During the regular season, the Colts outscored their opponents by an average of 28-10 and ended their regular season on an eight game winning streak.
The Colts showed no signs of slowing down in the playoffs, as they destroyed the Cleveland Browns 34-0 in the NFL Championship to earn a spot in the Super Bowl.
The Jets had a solid season, finishing 11-3, though the Colts were seen as the dominant team. The Jets barely beat the Oakland Raiders 27-23 in the AFL Championship game and seemed to be sitting ducks to get run over by the Colts.
-
Joe Namath guaranteed that his Jets would pull off the biggest upset in the history of football by beating the Baltimore Colts, and he was a man of his word, as the Jets overcame being 18 point underdogs to defeat the Colts by a score of 16-7.
Joe Namath would outduel Johnny Unitas, throwing a workmanlike stat line of 17/28 for 206 yards. The big story of the game was Matt Snell, who rushed for 121 yards and 1 TD for the Jets.
Unitas entered the game in the third quarter, taking over for the struggling Earl Morrall, who threw three interceptions. It was too little too late, however, as Namath and the Jets would cruise to victory.
-
Given the parity that now exists in the NFL, it seems hard to imagine that any team would be a 18 point underdog in this day and age.
The Jets' defeat of the Baltimore Colts in Super Bowl III still stands as the greatest NFL playoff upset of all time, and it seems hard to imagine that this game will ever be topped.