Howard Bison, Appalachian State Can Lay Claim To Biggest Ever Upsets
Published on September 19th, 2020 5:16 pm EST
Written By:
Dave Manuel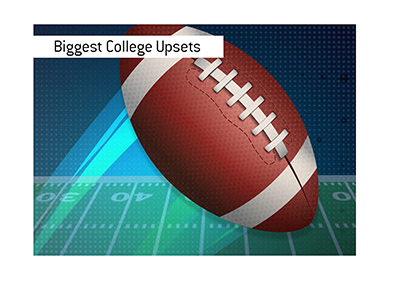 What was the biggest upset in the history of college football?
For this article, we'll focus on two different types of upsets:
1) The most lopsided point spread that resulted in an upset
2) The most unexpected loss by a big program
-
The biggest ever upset in terms of the point spread took place on September 2nd, 2017 in a game between Howard Bison and the UNLV Rebels.
Howard Bison came into the game as a 45 1/2 point underdog.
Caylin Newton, brother of Cam Newton, would play a starring role in the game, as he ran for 190 yards and two TDs to seal the 43-40 win for his team.
UNLV seemed like they were getting things together midway through the third quarter after taking a 33-21 lead, though Bison State came storming back to win.
Caylin Newton sealed the victory with a 4 yard TD run with 7:34 left to play in the fourth quarter, and UNLV was never able to answer.
This remains the biggest upset in college football history, based on the point spread.
-
Now, what was the biggest college football upset that involved a "big" program in a game that they absolutely should have won?
There are some strong contenders here - how about Stanford's 24-23 win over USC in a game in which they were a 41 point underdog?
How about Oregon State beating one of the top teams in the nation, Washington, 21-20 in 1985?
These would be excellent choices, though I think the 2007 contest between Appalachian State and Michigan would have to take the cake.
Michigan paid $400,000 to Appalachian State to come and get thrashed in Michigan's season opener.
That was the plan anyways.
Michigan, which entered the season as the 5th ranked team in the nation, would end up losing 34-32 at home to Appalachian State.
While this wasn't the biggest upset in terms of a point spread, this was easily one of the most humiliating loss in college football history.