San Diego Chargers Were 19 Point Underdogs Against San Francisco 49ers in 1995
Published on January 15th, 2022 12:13 am EST
Written By:
Dave Manuel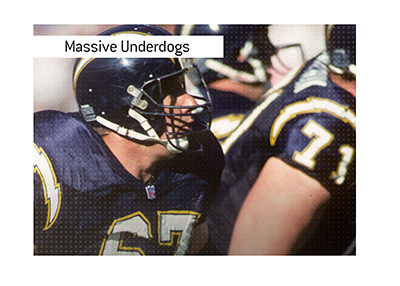 Who was the biggest underdog in NFL playoff history?
The biggest underdog in NFL playoff history were the San Diego Chargers, who were massive underdogs against the San Francisco 49ers in the 1994 playoffs.
How big of an underdog?
The Chargers were
19 point
underdogs against the 49ers, who had a ridiculously strong lineup that included the likes of Jerry Rice, Steve Young, Deion Sanders and more.
What made this point spread even more crazy is the fact that the Chargers were 19 point underdogs in the Super Bowl, which spoke to the strength of the San Francisco 49ers' team, who buzzsawed their ways through the regular season and playoffs.
Heading into the Super Bowl, the 49ers had scored 82 points in their previous two playoff games.
The Chargers, on the other hand, had barely eked out wins against the Miami Dolphins and Pittsburgh Steelers.
-
The 49ers were a wrecking ball in the 1994 season. The MVP of the league was quarterback Steve Young, while Deion Sanders won Defensive Player of the Year.
The 49ers scored 505 points during the 1994 season, which was best in the league, as they were led by the dynamic duo of Steve Young and Jerry Rice.
Steve Young was intent on "getting the monkey off of his back" and stepping out of the shadow of Joe Montana, and he did it after leading the 49ers to a Super Bowl victory.
-
In the end, the 49ers covered the 19 point spread, as they would end up winning by a score of 49-26 in Super Bowl XXIX.
Steve Young was electric in the game, passing for 6 touchdowns and 325 passing yards.
-
In case you were wondering,
here is the biggest ever upset in NFL playoff history
.