Matthew Stafford and LT Stand Out as Biggest Ever Snubs
Published on December 22nd, 2022 2:23 pm EST
Written By:
Dave Manuel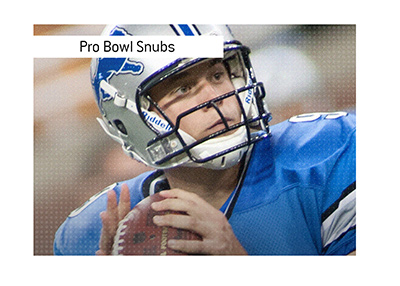 Every year, very good players get left off of the Pro Bowl roster.
In the history of the Pro Bowl, however, two snubs stand out above the others.
The biggest snub in the history of the Pro Bowl is likely Matthew Stafford in 2011.
Matthew Stafford's 2011 season was the best of his career, and he helped lead the Lions to a 10-6 record.
Stafford's numbers were incredible:
5,038 passing yards
41 passing touchdowns
63.5% completion rate
97.2% Rating
It's obscene that a quarterback that passes for over 5,000 yards doesn't get invited to the Pro Bowl.
What makes it even worse is that the Lions had such a great season, posting a record of 10-6.
The NFC roster was obviously very good, as it included Michael Vick, Matt Ryan and Drew Brees.
Matt Ryan, however, threw for 4,177 yards and 29 touchdowns, and still made the Pro Bowl over Matthew Stafford.
In addition, the Falcons finished 10-6 that year, which was off from their 13-3 record the year before.
A true head-scratcher.
-
Let's look at the second biggest Pro Bowl snub of all time - LaDainian Tomlinson's 2003 season.
LT was an unstoppable force in 2003, as he continued to establish himself as one of the most electrifying catch-passing running backs in the history of the league.
Look at LT's numbers in 2003:
1,645 rushing yards
13 rushing TDs
100 catches
725 receiving yards
4 receiving touchdowns
It's absolutely astonishing that LT, who combined for nearly 2,400 yards and caught 100 passes, was left off the 2003 Pro Bowl roster.
Jamal Lewis was a clear-cut Pro Bowl selection in 2003, as he rushed for over 2,000 yards.
Priest Holmes got the nod over LT due to his rushing touchdowns, as he found the endzone 27 times in 2003.
LT was seemingly a sure bet to find his way onto the roster, though he was inexplicably left off.
-
It will be hard to top these two Pro Bowl snubs.