Lebron James and the Cleveland Cavaliers Were Biggest NBA Finals Underdogs
Published on September 30th, 2020 9:46 am EST
Written By:
Dave Manuel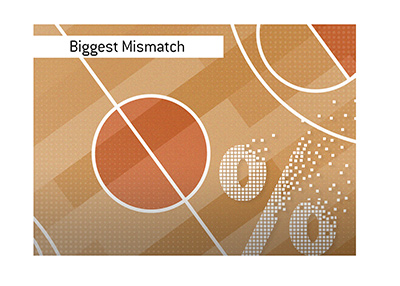 It's hard to imagine that a Lebron James-led team would be the biggest underdogs in NBA Finals history (at least in the modern era).
In 2018, Lebron James and the Cleveland Cavaliers squared off against the Golden State Warriors in the NBA Finals for the fourth straight time.
The Warriors had won two of the previous three encounters between the two teams in the NBA Finals, though things were significantly different this time around, as Kyrie Irving was gone, Kevin Love had a concussion and the Warriors were absolutely rolling. With Kevin Durant on the team, the Warriors were practically unbeatable.
This resulted in the Warriors being installed as -1000 favourites to win the NBA Finals in 2018, while the Cavaliers were +625 underdogs.
This remains the biggest mismatch in the modern era of the NBA Finals.
-
A couple of others NBA Finals match-ups came close, and they both involved Kobe/Shaq and the Los Angeles Lakers.
In the 2001-02 season, the Los Angeles Lakers were listed as -750 to win the Finals against the New Jersey Nets, while the Nets were +525 underdogs.
The Nets were no match for Shaq and Kobe, as the Lakers went on to sweep the series.
-
In the 2003-04 NBA Finals, the Los Angeles Lakers were the -700 favourites to defeat the Detroit Pistons, while the Pistons were listed at +500 underdogs.
The Pistons scored the biggest upset in modern NBA history in that series, shocking the Lakers after winning the series convincingly.
This upset would mark the beginning of the end of Kobe/Shaq in Los Angeles, as Shaq would soon be sent to the Miami Heat.
-
The 2020 NBA Finals has the Los Angeles Lakers installed as +275 favourites.