Rasheed Wallace Deal Remains Most Impactful Deal of All Time
Published on February 2nd, 2023 2:41 pm EST
Written By:
Dave Manuel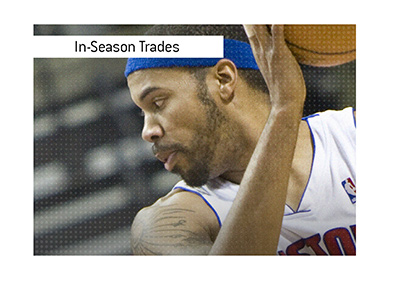 Some of the biggest names in NBA history have been traded during the season.
This list includes the likes of Allen Iverson, Shaquille O'Neal and Clyde Drexler, just to name a few.
The most impactful in-season trade, however, is when Rasheed Wallace was traded to the Detroit Pistons.
-
On February 19th, 2004, the Detroit Pistons pulled off a shocking three-way deal with the Boston Celtics and Atlanta Hawks.
The Atlanta Hawks had acquired Rasheed Wallace just a week before, so a second deal in a week for Wallace definitely took the league by surprise.
The deal saw the Pistons acquire Wallace and Mike James.
The Celtics received Chucky Atkins, Lindsey Hunter, Detroit's 1st round pick in 2004 and cash considerations. The Hawks received Bobby Sura, Zeljko Rebraca, Chris Mills and the rights to Milwaukee's first round pick in 2004, which Detroit had owned.
-
With the acquisition of Rasheed Wallace, the Pistons became an absolute nightmare to play against, as they were able to field a line-up that included the likes of Ben Wallace, Rasheed Wallace, Chauncey Billups and Tayshaun Prince.
The Pistons would finish the regular season at 54-28, but they would save their best work for the playoffs.
-
After advancing to the finals, the Pistons were set to take on the Los Angeles Lakers, who were looking to cement themselves as one of the all-time great basketball dynasties.
The 2004 finals were an absolute disaster for the Lakers, as they were completely shut down by the Pistons.
The Pistons, led by Rasheed and Ben Wallace, managed to hold the Lakers to point totals of 75, 99, 68, 80 and 87, en route to a 4-1 series victory.
-
This would be the end of Shaq and Kobe in Los Angeles, and the end of the Lakers dynasty.
-
The most impactful in-season trade? It's the one that ended the run of Shaq and Kobe in Los Angeles, and that was the trade of Rasheed Wallace to the Detroit Pistons in 2004.