2006 Michigan State vs Northwestern Game Still Holds Record
Published on December 5th, 2020 4:50 pm EST
Written By:
Dave Manuel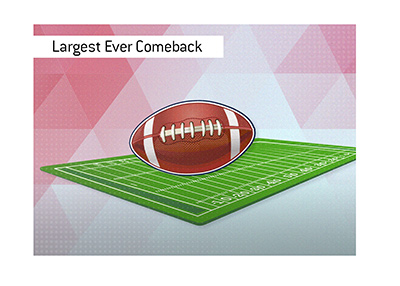 Imagine this.
Your favorite college football team is playing in front of their home fans. They are up 38-3 with 9:54 left in the 3rd quarter.
And they lose.
This is exactly what happened on October 21st, 2006, when Michigan State posted the largest ever comeback in the history of Division 1-A football.
The Northwestern Wildcats and Michigan State Spartans weren't very good teams in 2006. Entering the contest, the Spartans were 3-4 and the Wildcats were 2-5.
Things were looking good on this autumn day, however, for Northwestern's faithful fans, as their teams was absolutely clubbing Michigan State.
After taking a 24-3 lead into the first half, Northwestern came out with a 80-yard drive that culminated in a 22-yard touchdown pass.
On the very first Michigan State play of the following drive, Northwestern forced a turnover and marched down the field yet again for another touchdown.
38-3 with 9:54 left in the first quarter. Michigan State had zero momentum - Northwestern had the game in hand.
-
After that, Michigan State went to work, and Northwestern fell apart.
After falling behind 38-3, Michigan State marched down the field to make it 38-10 after Drew Stanton connected with Jehuu Caulcrick for a 18 yard touchdown.
Northwestern then went three and out.
After that, Michigan State would move 53 yards down the field in just 2:13, and A.J. Jimmerson would find the endzone for a 4 yard rushing touchdown.
Northwestern would then get intercepted. Michigan State would get intercepted on their next drive, which seemingly killed their momentum.
After holding Northwestern to another three and out, Michigan State would block a punt for a touchdown.
Suddenly it was 38-24 with a few seconds to go in the third quarter, and Northwestern was sweating.
After yet another three and out, Northwestern would give the ball back to Michigan State, who immediately capitalized with another rushing touchdown. 38-31.
Another three and out for Northwestern, and another long drive for Michigan State that ended in a touchdown. Tie game.
After intercepting Northwestern on the first play of the next drive, Michigan State would mark down the field yet again, where they kicked the winning field goal.
41-38. Game over. Michigan State, which was behind by 35 points, had completed the biggest comeback in college football history.
-
Here are highlights from the record-breaking game: