Anthony Bennett, Greg Oden, Kwame Brown All Considerations
Published on July 22nd, 2021 12:16 pm EST
Written By:
Dave Manuel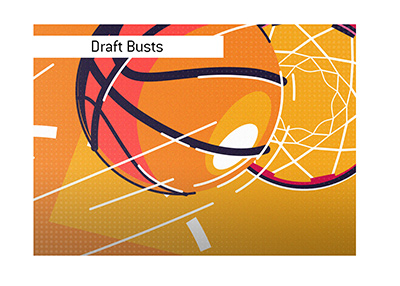 Who is the biggest bust in the history of the NBA draft?
Some people would immediately point out Sam Bowie, as he was taken before Michael Jordan in the 1984 NBA Draft.
Bowie can't really be classified as a "bust" though, as it was injuries that did him in.
In order to be classified as a "bust", a few things should be true:
1. You should be drafted first overall
2. You should significantly underperform while healthy
-
There are three names that people usually mention for the title of "biggest bust ever":
Greg Oden
Anthony Bennett
Kwame Brown
Even though Greg Oden was drafted first overall, his career was derailed largely due to injuries. Oden missed the entire 2007-08 season due to microfracture surgery, and he was never the same after that.
Kwame Brown was drafted first overall straight out of high school and certainly never lived up to expectations. Brown was a middling player for the entirety of his 13 year playing career, with his career high PPG coming in at 10.9.
Given the amount of hype surrounding Brown at the time that he was drafted, he certainly belongs in the top 3 of biggest draft busts of all time.
-
In our opinion, the biggest draft bust is Anthony Bennett, who was drafted first overall by the Cleveland Cavaliers in 2013.
Bennett lasted only one year with the Cavaliers, as he was traded in 2014 to the Minnesota Timberwolves. Other key pieces of this deal included Andrew Wiggins and Kevin Love.
Despite some flashes in the 2014 season, Minnesota elected to waive Bennett in 2015 - an unbelievable turn of events for a first overall pick.
Bennett would ultimately sign and be waived by both the Toronto Raptors and Brooklyn Nets over the next couple of years.
By early 2017, Bennett was out of the NBA, playing in the Turkish Basketball Super League.
Bennett would try to return to the NBA in 2019, though he was waived by the Houston Rockets.
-
If you want to talk about draft busts, it's hard to beat a first overall pick that plays for four teams in four years and is out of the NBA by his fifth professional year.