A Look at the Most Lopsided Game in the History of the NHL
Published on July 16th, 2020 11:48 am EST
Written By:
Dave Manuel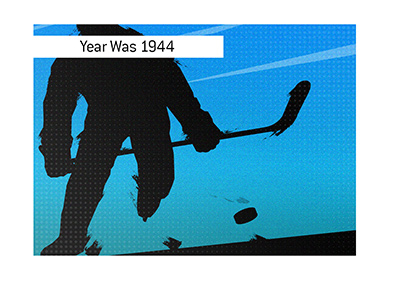 There have been some very, very good teams in the history of the NHL. Teams with incredible amounts of firepower.
The Edmonton Oilers. The New York Islanders. The Montreal Canadiens. The list goes on and on.
In the long and storied history of the NHL, what was the largest blowout in any game?
That distinction belongs to a 1944 game between the New York Rangers and Detroit Red Wings.
In the 1943-44 season, the New York Rangers were bad.
Very, very bad.
They would end up finishing the season with a record of 6-39-5.
Even more embarrassing was the fact that they gave up 310 goals over the course of just 50 games.
On the evening of January 23rd, 1944, the New York Rangers would travel to Detroit to take on the Red Wings.
The Rangers were flying high at the time, upbeat after back-to-back wins against the Boston Bruins and Toronto Maple Leafs.
The Rangers were about to be hit by an anvil, however, as they would get destroyed by the Red Wings, losing by a score of
15-0
.
The game started out innocently enough, as the 13-11-1 Red Wings took a 2-0 lead into the second period.
The wheels fell off for the Rangers in the second period, however, as Carl Liscombe, Adam Brown, Mud Bruneteau, Harold Jackson and Ken Kilrea all notched goals for the Red Wings to make it 7-0.
At this point, most teams would take their foot off the gas, but not the Red Wings. Did they have some secret grudge to hash out?
In the third period, the Red Wings put up an astonishing 8 goals to make the score 15-0. The Rangers were left humiliated and reeling, as they would go on to win just one of their next dozen games.
-
In this day and age, all of the NHL's teams are well-balanced and talented, which makes the possibility of a 15-0 score very unlikely.
The 15-0 destruction of the Rangers by the Detroit Red Wings in 1944 will likely remain the NHL's most lopsided game for a long, long time.
Source: NHL.com -
Rangers v Red Wings, January 23rd, 1944